Somerset Floods: Road Clear Up And Repair
13 March 2014, 15:44 | Updated: 13 March 2014, 15:49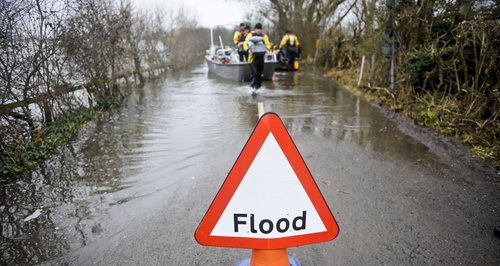 Highways teams from Somerset County Council have been busy clearing and repairing the County's network of roads affected by flooding.
It is estimated that approximately 25 miles of Somerset's network of highways was underwater during the floods.
Receding floodwaters are revealing previously flooded roads, but potentially dangerous debris needs to be cleared and checks made to make sure the roads are safe for motorists. Drivers are urged to adhere to 'Road Closed' signs where they are still in place - for example on the A361 from East Lyng to Burrowbridge - and use alternative routes.

Cabinet Member with responsibility for Highways, Cllr Harvey Siggs said:
"Although motorists may be tempted to drive through road closed signs as roads begin to dry, we would like to strongly advise people not to do this. Our Highways teams are working flat-out to clear debris and carry out any repairs that are needed to make them safe for motorists. We want to open these roads as soon as possible, but they also need to be safe."

The clear up of the A361 started on Monday 10th March with the removal of fallen trees and the cutting back of damaged vegetation. Approximately 30 tonne of used sand bags were removed from the A361 Burrowbridge. Sandbags will also be removed from the Lyng end. A sweeping and cleaning operation will then commence along the 1.5 mile section of carriageway with repairs carried out where needed.

An inspection is planned for Friday to decide if it is safe to open the road before the weekend, or whether it will open early next week. A critical issue is making sure the road substructure can cope with a daily average of 4,800 vehicles and 144 LGV's. Cllr Siggs added:
"We know the A361 is a key route for residents and businesses in the area. We're working hard to get it open as soon as possible and relieve the pressure on other routes."

In South Somerset Long Load Bridge has now reopened with the carriageway swept and the traffic signals now back on. Wetmoor Lane has been cleared and re-opened with Thorney Road also swept with repairs being made. Law Lane is in the process of being cleared with damage to the road being repaired, it will be opened as soon as possible.

In Sedgemoor Police are monitoring access to Moorland at Huntworth triangle with access only currently possible by 4x4.