Food Producer's Unite For Slice Of Hinkley Pie
19 March 2014, 14:40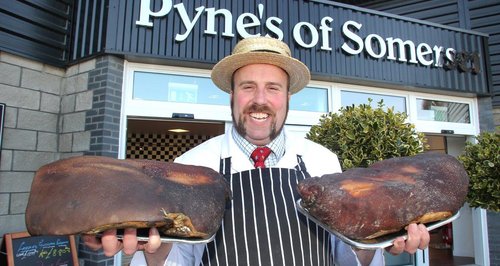 A group of Somerset's leading producers have formed 'Somerset Larder', a company ready to compete for the expected £80m spend on food and drink required during the construction of EDF Energy's Hinkley Point C.
At its peak, Europe's largest construction site will see more than 8,000 meals served each day and Somerset Larder is hoping to provide the site with a full service, one stop catering solution. If successful, the move will also see the company develop their own range of Somerset Larder products, available exclusively on-site.

The formation of Somerset Larder is a result of EDF Energy's procurement strategy for Hinkley Point C, which has been to partner with the Somerset Chamber of Commerce to identify and support local businesses wanting to become part of its supply chain. The resulting online Hinkley Supply Chain portal has seen around 1,600 Somerset companies express interest in the project.

Administered by the Somerset Chamber of Commerce, the portal has also seen more than 50 Somerset food and drink businesses register their interest with the prospect of more than 25,000 people consuming their products during the £14 billion development. But to take advantage of such an opportunity, a number of challenges have been overcome according to Greg Parsons, MD of Somerset Cheddar maker Cricketer Farm and one of Somerset Larder's founding directors:

"While the opportunity for Somerset food and drink businesses was clear, the sheer scale of supply required by EDF Energy provides a huge
challenge. The only solution was a collaboration between all interested producers and the resulting formation of Somerset Larder, a company that can provide a central food hub for all Hinkley Point C's catering contractors. Served exclusively by local food and drink businesses,
should Somerset Larder secure the contract then this will provide huge,long term boost for the county's economy."

The company intend to bid for the supply of the site's main catering operations as well as catering opportunities in the three accommodation
campuses. To illustrate the volumes of Somerset produce involved, some 1.5m eggs, half a million kilos of meat, fish, vegetables and fruit, 20 tonnes of cheese and 1.2m tea bags will be needed to service the site's catering needs per year, at peak construction.

Nigel Cann, Site Construction Director Hinkley Point C, confirmed that EDF Energy has always been committed to creating a long term positive legacy for the project that will continue to benefit Somerset and the wider region for years to come:

"It is very encouraging to see Somerset food and drink companies coming together to form Somerset Larder. This will help position them to bid for the significant catering contract for Hinkley Point C, which might normally only be offered to a multi-national facilities services company. Such an innovative step will allow local companies, as part of Somerset Larder, to genuinely compete on quality, value and scale."

This model and the resulting legacy is not just restricted to Hinkley Point C's construction period though, as Somerset Larder is already
negotiating contracts with other significant public and private sector organisations across the region. A Somerset Larder "Traineeship" scheme is also set to launch as early as April this year in partnership with Bridgwater College. The aim is to recruit 10-15 students aged 16+ who will spend one day a week at college and four days in the workplace for three months, leading to permanent employment or apprenticeships.

Playing a critical role in facilitating dialogue between EDF Energy and Somerset businesses throughout has been the Somerset Chamber of Commerce. According to its CEO, Rupert Cox, Somerset Larder is testament to the vision and effort invested by all the parties in creating a long term business model that will benefit Somerset's food and drink sector far into the future:

"Our on-going partnership with EDF Energy has ensured that, from the very start, they have been aware of the huge pool of supply chain resource available here in Somerset. Our resulting online Hinkley Supply Chain portal, as well as the meetings and introductions we've facilitated have brought direct economic investment and job creation to the county. We are also working hard to replicate the Somerset Larder model across facilities management, construction services and logistics so that even more Somerset businesses can benefit from Hinkley Point C's construction."

The Somerset Larder Board of Directors is now focused on establishing the food hub and engaging the select group of Somerset food and drink businesses involved to ensure a successful roll out of services in 2014. This will also involve a key consumer and trade launch at the Royal Bath & West Agricultural Show plus presence at the Somerset Cheese & Cider Fest 2014.
The Somerset Chamber of Commerce is the first point of contact for local businesses wishing to engage in the construction of the proposed nuclear new build project at Hinkley Point C. For further information, visit www.somerset-chamber.co.uk or www.hinkleysupplychain.co.uk