Somerset: Government Ministers Invited To See Flooding
13 January 2014, 16:32 | Updated: 13 January 2014, 16:38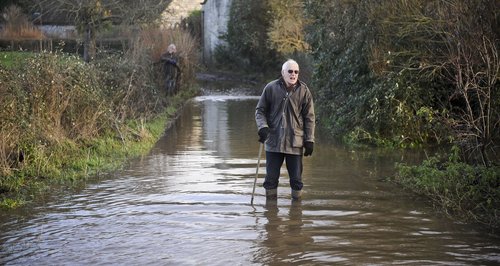 Somerset County Council has confirmed it has invited government ministers and flood experts to visit the county to see first-hand the devastating flooding that has hit the area.
Ministers from the Department of Environment, Food and Rural Affairs (Defra) and members of the all-party Parliamentary group on flooding have been invited to the county to visit the flooded in community of Muchelney, see the state of the currently closed A361 and view the levels, much of which are under several feet of flood water.

It is part of the Somerset County Council-led campaign for significant flood prevention investment in the county. Under the campaign banner of "Fairer Funding for Somerset", councillors are demanding government support to prevent further major floods. Council Leader John Osman said:

"We really want to show ministers just how bad it is in Somerset – and for a second year in a row. People want action, not words, and it is time the Government fronted up. We have provided a boat to help people in Muchelney, we have responded 24/7 as the flood waters rose, we have done everything in our power. But we still have people cut off, we still have major roads closed and we still have people stranded, worried and picking up the pieces of their life. The government can, and must, put its hand in its pockets and step in.
The more people who support the campaign, the more pressure we can put on government. Let's get everyone behind this campaign and deliver investment where it is most needed."

He said investment could mean river dredging, engineering projects or grants for specific flood prevention schemes. Cllr Osman appealed for residents and communities to show their support for the campaign by "liking" and uploading content to the Council's newly created campaign facebook site www.facebook.com/fairerfundingforsomerset or using the hashtag #fairerfundingforsomerset on twitter.
Peter Maltby, Chairman of the Somerset Drainage Boards Consortium and Parrett Drainage Board, is throwing his support behind Somerset County Council's campaign to secure 'Fairer Funding for Somerset' to deal with flooding in the county. Peter said:
"I fully support Somerset County Council's Fairer Funding for Somerset campaign. We desperately need more funding to invest in dredging in the county. Dredging the local waterways would vastly improve the situation, it would prevent future flooding and protect many communities in low lying areas. We need to get it sorted and quickly."