Hedgehog Rescued From Marcus Trescothick's Gate
21 July 2014, 16:34 | Updated: 21 July 2014, 16:51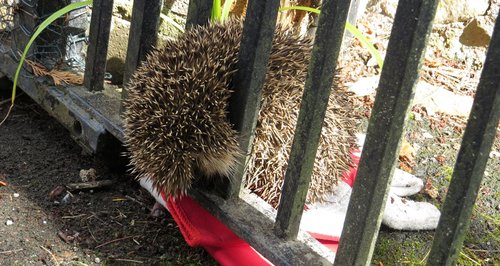 Former England cricket star Marcus Trescothick and his family had a surprise visitor last week when a hedgehog got stuck in his garden gates.
Secret World response driver Tony Webster was called to the scene to assess the situation to find that cutting equipment was needed to free the hedgehog that was well and truly stuck between two bars. After seeking permission from the Somerset star to cut the bars to free the hedgehog, Secret World Trustee Roger Lucken arrived with cutting equipment.

The hedgehog was taken to Secret World's rescue base at East Huntspill where it was determined that the female hedgehog was likely to have babies somewhere in amongst Mr Trescothick's garden. Staff were keen to get her back into the garden as soon as possible with instructions to the Trescothick family as to how and when to release her.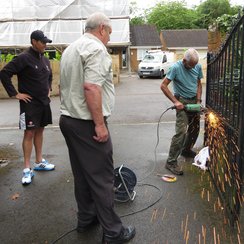 Secret World Charity founder Pauline Kidner said:
"Hedgehogs are renowned for getting themselves into prickly situations like this and we are delighted that on this occasion the hedgehog was able to be returned back into Mr Trescothick's garden. We welded his gate back together for him too."

This incident highlights the problems hedgehogs face in the wild which is why this weekend on 26th & 27th July Secret World opens its doors for their annual "Hedgehog & Tortoise Weekend" on Saturday 26 and Sunday 27 July. This is an opportunity for visitors to find out more about hedgehogs and how to help them in gardens throughout the year. Gates will be open from 10am- 4pm each day. Admission is free, however donations to the charity would be gratefully appreciated including tinned kitten food to help feed the baby hedgehogs.

Marcus Trescothick said:
"It was a bit different holding a prickly ball rather than a cricket ball! My wife and family were delighted with the fast response from Secret World and hope their forthcoming weekend is a huge success."