Somerset Floods: Latest
13 February 2014, 18:29 | Updated: 14 February 2014, 08:48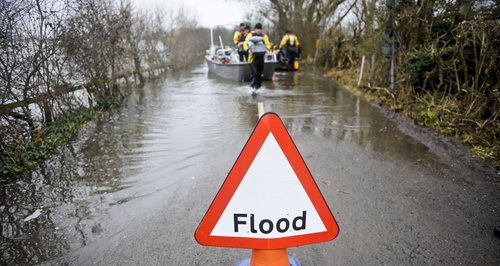 With more wet and windy weather on the way, two high-volume pumps imported from the Netherlands have started work to try and reduce the water levels on the flooded Somerset Levels.
The Dutch equipment has been installed at Dunball, north of Bridgwater, to pump water from the most saturated parts of the Levels into the River Perrett and out to sea. The Environment Agency (EA) said the scheme would reduce the flood risk in the villages of Northmoor and Saltmoor by reducing the water levels on the River Tone.

Some parts of the Levels have been flooded since Christmas and the rising water has caused dozens of homes to flood, roads closed, villages cut off and disrupted rail services.

Two of the 13 high-capacity Dutch pumps have been located at Dunball while others have been installed in Beerwall. It total the EA has 96 pumps in use and is currently pumping from the Levels enough water a day to fill Wembley Stadium three times. But it has warned there is a continued high risk of flooding into the weekend.

Meanwhile, some local residents have criticised the authorities' response to the flooding crisis. Around 300 members of the public attended a public meeting in Huntworth on Wednesday night to air their concerns at the ongoing floods on the Levels - accusing the EA of sacrificing villages to prevent the flood water reaching Bridgwater.

The EA has constructed a temporary earth bank between the villages of Moorland and Huntworth to try to hold water back from the town, where around 1,000 homes on the outskirts are at risk of flooding. Residents in the village of Westonzoyland fear their homes could be flooded because water is being pumped into the King's Sedgemoor Drain relief channel close to their properties in order to protect Bridgwater.

But the EA said additional flood defence measures are being installed to make sure that does not happen.

"There has been some concern raised about a number of locations in that relief channel, such as Aller Drove and Westonzoyland,'' Jim Flory, area environment manager, said.

"The key thing to emphasise by releasing water from the River Parrett into the River Sowy is a controlled process and we do it by opening and shutting the sluice gates. We will be gradually opening it very incrementally and very carefully monitor it to make sure that the additional pumps we have put in are bringing the water through and not causing additional problems elsewhere.
To make sure we are being completely secure in what we are doing we have put in some additional flood defences around Aller Drove and parts of Westonzoyland.''

Meanwhile, the leader of Somerset County Council is backing the call by the Prime Minister for utility companies to do their bit to help victims of flooding. Councillor John Osman said:
"It was clear from talking to people in Somerset who have been directly affected by the flooding, and particularly Flooding on the Levels Action Group (Flag), that this was a really good idea. I've heard stories that some people who have been forced out of their homes have faced hefty bills or have been asked to pay hundreds of pounds to suspend a service. That is not fair.
As a council we took the lead by offering to waive the county council part of homeowners' council tax bill for everyone stranded or unable to live at home. We called on other councils and businesses to follow suit, and I'm delighted to hear that our Prime Minister feels the same.''

Rural communities across the UK are being urged to donate to a fund to help flood-stricken families in Somerset. Villages on the Somerset Levels have now been under water for six weeks, with homeowners and farmers forced to leave their properties.

Now leading rural network ACRE (Action with Communities in Rural England) is asking people nationwide to show their support by donating to the Somerset Emergency Flood Relief Fund.
Details of how to donate money to the Somerset Community Foundation fund can be found HERE
If you have offers of help or assistance - please click HERE

David Cameron insists the Government is in for the "long haul" to ensure the UK recovers from the devastating floods. The Prime Minister has visited the Gold Command centre in Taunton that is coordinating the flood effort.
Meanwhile - the Government should work with the insurance industry to ensure that flood victims receive "proper coverage and compensation'', Deputy Prime Minister Nick Clegg has said. The Liberal Democrat leader said he agreed with Labour's shadow deputy prime minister Harriet Harman, who urged the coalition to lead the coordination of various compensation programmes to help people rebuild their lives once the waters have subsided.

Speaking during Deputy Prime Minister's Questions in the Commons, Mr Clegg said:
"I strongly agree with that, that is precisely what we should be doing.As you may know, we have already reached an agreement with the insurance industry on a long-term approach, insurance for properties which are susceptible to flooding; that is something that we can now move forward with.
You will also now that we have increased the coverage under the Bellwin formula, in terms of the money provided to councils, that have had to spend more of their own resources to deal with this terrible emergency. Yes, of course, we need to work together with the insurance industry, with businesses, with the farming community with local authorities to make sure that proper coverage and compensation is provided.''

Ms Harman had been seeking reassurances that the Government was liaising with insurers to "coordinate all the Government compensation processes, so that once the water subsides and the TV cameras move on, people are not left in the lurch, and get the ongoing help they will need''. She said:
"The absolute priority for everyone now must be a total focus on everyone working together to help people hit by the floods and those as he says who are still threatened. People will still face huge challenges and great anxiety about the future even after the flood water recedes. They'll have to get their homes straight, their farms and businesses back on track and rebuild their livelihoods and their communities, and we all know how impossible it can wrestling with compensation schemes and dealing with insurance companies even at the best of times.''

Praising all the various bodies who have joined in the aid effort, she said they had done a "heroic job'', adding: "It's hard to imagine the distress at seeing your home wrecked by flood water, but that's the situation facing so many families today.''

Mr Clegg joined her in paying tribute to "everybody who has been working so hard around the clock''. He told the house:
"The bad weather is still with us, the Met Office is keeping us updated as you know, we are holding a series on an ongoing basis of Cobra meetings to monitor the situation, we are working with local authorities, with the Environment Agency, with all the emergency services to put contingency measures in place where we think threats might arise and of course to do our best to deal with the rising water in all the places where it's affected, particular in the Thames Valley and the Somerset Levels.''


A Somerset MP has signed a petition launched by flood victims which calls for Environment Agency chairman Lord Chris Smith to be sacked.
Ian Liddell-Grainger, Conservative MP for Bridgwater and West Somerset, called on the Prime Minister to remove the Labour peer from his £110,000-a-year, two-day-a-week job.

Mr Liddell-Grainger called Lord Smith "smug, arrogant and self-satisfied'' and said he had "bottled out of his moral obligation'' to apologise to flood victims.

The MP pledged his support for a petition launched by master butcher Malcolm Pyne, from North Petherton, near Bridgwater last week. Mr Pyne's parents have had to leave their flooded home in the nearby village of Fordgate, which has now been abandoned, and the beef farmer who supplies his shop has moved his animals miles away as their usual grazing land is under 5ft of water.

Mr Liddell-Grainger said he had signed the petition after watching Lord Smith's appearance on Newsnight on Monday, days after he received a frosty reception during a visit to see flooding in Somerset. He said:

"How did he come across to you? Smug? Arrogant? Self-satisfied? Or all three? Did you see any evidence of the merest scintilla of remorse or regret for the devastation the Environment Agency has been party to causing on the Somerset Levels? Because I didn't.

I saw a man who made much of the fact that the Environment Agency had saved more than a million people from flooding. What does he want? A medal? That is what the Environment Agency is supposed to do.
That is what Lord Smith and the senior managers are paid over-handsomely to ensure happens.''


The MP said farmland had been submerged, homes flooded, businesses forced to close, families evacuated and wildlife wiped out in an area which used to be "one of the finest wildlife habitats in the country''.

He said Environment Agency data showed dredging would have "considerably alleviated'' the impact of flooding on the Somerset Levels.

Mr Liddell-Grainger said he - along with other Somerset MPs - had not been approached by Lord Smith concerning the Government's £400,000 budget for dredging, which was insufficient. He said:
"We should have been able to make out a robust case for special treatment for an area with its own special character and problems. But we weren't even asked. Why? Because the Environment Agency's managers, with Lord Smith's tacit approval, had already taken the view that dredging was not going to be a priority. Why else would they have sold off all the dredging equipment?

The policy was clearly to be one of benign and gradual neglect of water management systems on the Levels. Why else would two of the three pumps at Midelney that are supposed to clear flood waters around Muchelney have been left broken and unrepaired, one for months, the other for years?''

He said he hoped a £31m scheme - funded by the taxpayer - to protect homes and create a bird sanctuary in Steart would be "money well spent''.

Mr Liddell-Grainger also criticised Lord Smith for suggesting prospective house-buyers should remembers the motto "caveat emptor'' when buying a property on a flood plain as "outrageous''. He said:

"Lord Smith's agency has quietly re-written the rules, designated farmland as 'reservoirs' and decided to abandon practices which have kept the Levels dry and workable for a thousand years. Lord Smith, in short, has had an easy voyage during his chairmanship of the Environment Agency but now he has hit rough weather it's a different matter. He has been found out, he can't cope with it and he has bottled out of his moral obligation to apologise.''

The MP said Lord Smith should be sacked before he is due to step down in July. "Personally I don't think the situation merits him being paid #2,000 a week for a few hours desultory 'work' any longer,'' he said.

"Hundreds of people have already signed the petition organised by Somerset butcher Malcolm Pyne calling on the Prime Minister to sack him. So, now, have I.''


Police have introduced a new vehicle to serve villagers in Muchelney, Somerset, which has been cut off by flooding for six weeks.

Avon and Somerset Police had been using a BV amphibious vehicle to help stranded residents travel to Thorney. But a decision has now been taken to withdraw the BV, after concerns were raised about it creating waves.
A spokesman for the force said a Unimog vehicle would instead be used to help transport Muchelney residents:

"Local people wishing to travel to Thorney had raised concerns about waves being created by the amphibious vehicle (BV). The decision was taken to withdraw the BV and the Unimog will operate instead. Support from Wessex 4x4 continues as we continue to work with the local residents to meet their requirements.
The west route, which serves those living in the Drayton area - and beyond - continues to be supported by a BV and the Wessex 4x4 team. The route north of the area to Langport, continues to be supported by the boat service, which is being provided by Somerset County Council.''