Muchelney: Boat Continues To Help People
10 January 2014, 09:43 | Updated: 10 January 2014, 11:43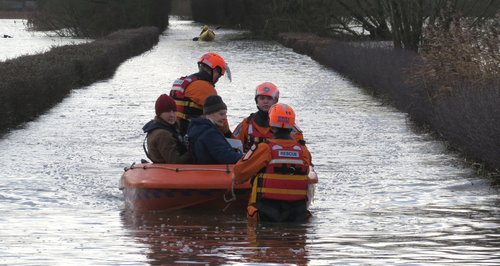 A pensioner has been helped by Burnham-on-Sea's BARB rescue boat crew during the ongoing flood work in Muchelney.
The 83 year-old woman was taken across the flooded fields from the cut-off village of Muchelney in BARB's rescue boat at the family's request so she could attend a medical appointment.
Her son, Piers Denny, said:
'We are very grateful to BARB for their help today and throughout the week - it's been a relief to know they are available.'
Her home is one of many in the village, near Langport, which is still completely cut off by flood water and where BARB Search & Rescue has been helping for the past week.
The charity's volunteers have made dozens of trips to Muchelney with supplies and to take people backwards and forwards.
On Thursday, BARB was also asked to help Royal Mail take a large quantity of post across to the village by boat - a first for the charity.
BARB - which operates an inshore rescue boat and two rescue hovercrafts - is one of several organisations in the region helping with flood relief work as part of the Somerset Civil Contingencies Unit.
BARB is a registered charity and is run entirely by volunteers and has helped and rescued more than 250 people over the past 21 years.
More details about to help BARB and get involved with fundraising and as a crewmember are available at http://www.burnham-on-sea.com/barb