Muchelney: Road Raising Plan
24 June 2014, 10:18 | Updated: 24 June 2014, 10:40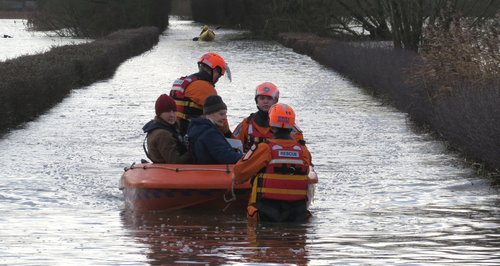 Villagers having to catch a boat to get and out of Mucheleny was one of the defining images of the devastating flooding which the Somerset Levels in the winter of 2014.
But now there are plans to raise the level of the main road into the village to try and stop it being totally submerged if we see a repeat of the flooding we saw earlier this year.
Somerset County Council (SCC) say the proposed scheme would raise the first 500m of the Drayton Road from Muchelney by 60cm. They think this should maintain access to the village. They say it's their preferred option after a feasibility study, but until tenders for the work have been received the exact cost won't be known.
However SCC say it looks like it may the most affordable and - subject to other factors including the weather - it could happen this year.
It's being done as part of the Somerset Levels and Moors Flood Action Plan (FAP) which is being delivered by a range of agencies co-ordinated by SCC.
Local people will be able to drop in and see the plans on Thursday July 3rd from 15:00-20:00 at the village church.
Cllr Harvey Siggs, Cabinet member for Highways and Transport, said: "Being cut-off for so long had a massive impact on the community which is why this is one of the first actions in the plan being addressed.
"All solutions are expensive, and while no decision has been made this is our preferred option. Compared to the other options, this is relatively affordable and – depending on other factors like the weather – could be completed this year."
The information available at the drop-in session will also be available on the Council website HERE by 3 July with the opportunity to comment until 20 July.
The aim is for a decision on whether to proceed with the preferred scheme to be taken before the end of July.