Mulchelney: New Boat For Town
10 January 2014, 06:00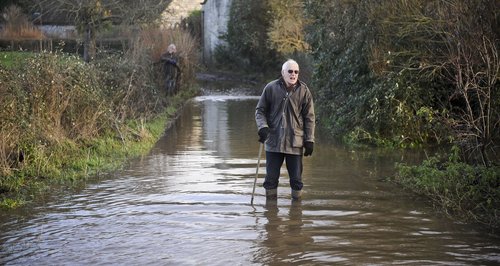 People living in the flooded town of Muchelney will have another boat to help them get in and out of the town.
The boat has been paid for and provided by Somerset County Council and run by a crew from Devon & Somerset Fire & Rescue Service.
The flat-bottomed vessel will be able to navigate sunken cars, trees and other underwater obstacles to reach the village of Muchelney from Huish Episcopi.
It will be mostly for 'humanitarian' use, with priority given to people with health or social care needs. It is hoped the eight-seater vessel will be able to make three trips a day to and from the island taking food, medicines and other supplies.
Residents will also be able to use the service to get back to work and to shop. Where space is available, it will also be available to help take the half dozen children remaining in Muchelney to the mainland and a drop point just a few hundred metres from Huish Episcopi school.
The support boat will be accompanied by a rescue boat and will not operate if conditions are deemed to be unsafe. The boat will only operate in daylight hours.
David Hall from the Council said:
'We have listened to the community and moved as quickly as possible to provide this boat.
.For obvious reasons, the use has to be prioritised for those in maximum need and safety is absolutely paramount. We are hopeful that flood waters will start to recede before too long and village life can return to normal, but we will continue to monitor the situation closely "A lot of organisations have helped make this possible and my thanks go to them.'
'We have seen many people hit very hard by these floods. They have been described as once in 100 year floods but we have seen serious flooding now in the same areas for two years in a row.
'We are working hard to support people and communities as best we can while operating under our own very challenging financial situation.'