Prince Charles Visits Somerset Flood Victims - GALLERY
4 February 2014, 17:34 | Updated: 4 February 2014, 17:43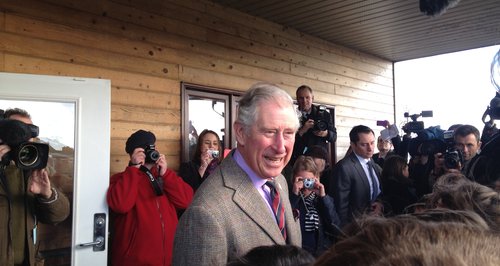 The Prince of Wales has offered his support to flood-hit residents on the Somerset Levels by pledging a £50,000 donation.
The Duke of Westminster will match the funding with an additional £50,000 - taking the total donation to £100,000.

The Prince has met local residents, farmers and emergency services personnel who have been affected by the flooding. Charles, patron of the Prince's Countryside Fund, which will provide the donation, braved heavy rain and winds in the area to attend a reception in Stoke St Gregory.

Dozens of schoolchildren, residents and campaigners greeted him as he arrived at the Williams Hall in the small Somerset village, near Taunton.
The Prince's Countryside Fund has allocated £25,000 of the emergency funding to the Farming Help Partnership, made up of the Royal Agricultural Benevolent Institution, Farm Community Network and the Addington Fund. A further £25,000 has been given to the Somerset Community Foundation.


Speaking following the announcement, Victoria Elms of the Prince's Countryside Fund said:
"Rural communities in the South West are facing a second consecutive year of flooding. The Prince's Countryside Fund exists to support the people who live and work in the countryside and we hope this financial aid will go some way to supporting the farmers, businesses and families who are facing severe hardships as a result of the flooding.

Rural businesses are key to thriving communities and we want to help get hard-hit villages back on their feet and open for business.''
During his visit the Prince of Wales praised the Somerset communities for "helping each other'' during the flooding. The Prince told volunteers and local businesses at the reception in Stoke St Gregory that their help was "vital'' during times of crisis.

Dave Smith, of Somerset Levels Oil Group Syndicate, told Charles how residents in Muchelney were provided with £1,000-worth of free oil. Many ran out of oil when the village became cut off by flood water around three weeks ago - with tankers unable to reach them. Mr Smith arranged for 1,000 litres of oil to be transported to residents in 45 jerry cans by a rescue boats. He said:

"The Prince of Wales was talking to us about what we are involved in ourselves and how communities get together in crisis times to help each other. I think everyone will help, given the chance.''

Brian Worrall, director of corporate affairs for Certas Energy, which provided the free oil and jerry cans, added: "We told Prince Charles how everyone was happy to help."
Mark Newman, chairman of Burnham Area Rescue Boat (BARB), said volunteers had provided hundreds of hours of support for residents in Somerset:
"It is lovely for the Prince to come along and recognise the work of our volunteers here. Without them, all of the residents effectively would not have been able to go out. Prince Charles explained how important it is to have volunteers, associations and charities such as ourselves in times of crisis. We are vital. He thanked us as well, which was very nice.''

Roger Flower, a member of the BARB boat crew, added: "We have completed well over 50 trips over at Muchelney, from prescriptions to taking a lady to the dentist, to taking the post out. Prince Charles wanted to know how frequently the boats were used and whether they were ran by volunteers. We said of course they were.''



Communities from local areas including Muchelney, Thorney and other isolated hamlets have been cut off by the waters, with major roads closed. The Somerset Levels suffered "once in 100 years'' flooding in 2012, with conditions returning to the area in recent weeks.

More than 128,000 acres are flooded, around 40 homes are under water and approximately 200 houses are cut off. In total, around 350 people are affected.

The Prince's Countryside Fund, founded by Charles, has supported Britain's hard-pressed rural areas since being set up by Business in the Community in July 2010. Twice a year, the fund allocates grants to rural projects but it also reserves a portion of its income to be used in times of crisis.