Sedgemoor: Council Declares Major Incident
24 January 2014, 12:34 | Updated: 24 January 2014, 13:30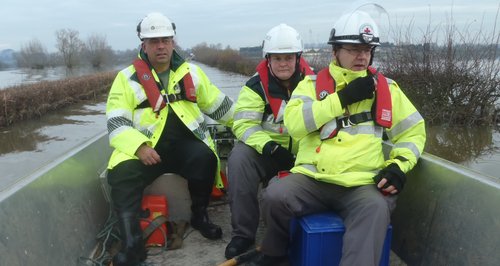 Sedgemoor District Council has declared a major incident in response to prolonged and local flooding within the Sedgemoor area and the weather forecast over the next couple of days.
Chief Executive of Sedgemoor District Council, Kerry Rickards said
"Several Sedgemoor communities have been severely affected by the floodwaters for some weeks now. With significant rainfall expected over the coming days we feel this situation needs to be escalated as a major incident. Sedgemoor District Council would like to extend its continued sympathy for the residents, business owners and farmers affected by flooding."
In a statement the Council say:
'Sedgemoor District Council have, and continue, to provide practical support to affected residents whose properties are flooded, or are predicted to flood. This ranges from portaloo provision where septic tanks are overwhelmed, sandbag collection points in local villages as well as deliveries to the most vulnerable properties. We have provided roughly 3000 sandbags in the past few weeks. Sedgemoor District Council is also providing housing advice and is on standby to provide alternative, temporary accommodation and set up rest-centres if, and when, required. We continue to support Somerset County Council's campaign for an effective long-term solution. '
Somerset County Council is supporting Sedgemoor District Council's decision to call a major incident for Somerset. With more bad weather expected this weekend and high tides next week, there is the potential for more communities to be affected by flooding.

Deputy Council Leader David Hall said:
"We're supporting Sedgemoor District Council's decision to call the flooding in Somerset a major incident. The Met Office is forecasting more rain this weekend leading to an increase in flood water levels across the county. We also expect further high tides next week that will make the situation worse.
We will continue to support residents affected by floods. We have recently extended our boat service for stranded residents in Muchelney and Thorney, we are helping communities strengthen their flood defences and will continue to ensure vulnerable people are safe."