Somerset: Keep Out Of Flood Water Warning
22 January 2014, 14:20 | Updated: 22 January 2014, 14:21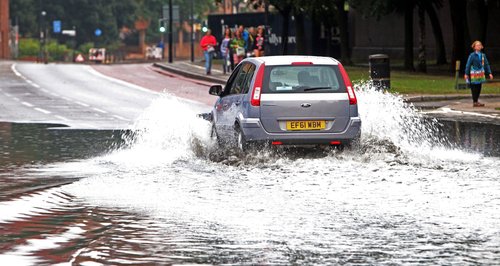 People living in the areas around the Somerset Levels are being reminded not to attempt to wade or travel through floodwater as it could be extremely hazardous.
They say you could be putting yourself and others at risk.
If a road has been closed, it is for the safety of the public and closure signs should be respected. This includes driving, walking, riding a horse, canoes and inflatable boats as the flooded area hide many dangers.
It is impossible to tell how deep the water is or the condition of the ground beneath. Your transport or you may be swept away. Vehicles can float away in just two feet of water.
The emergency services and other agencies are working together to ensure people's safety as the water levels in parts of Somerset are set to remain high for up to three weeks.
The supply boat to the village of Muchelney will be remaining in place for as long as it is needed and every attempt will be made to return the area to normality as soon as possible.
A spokesperson for South Western Ambulance Service NHS Foundation Trust said:''It is important to stay safe and stay informed. Please take note of all available advice regarding heavy rainfall and flooding. For those in the affected areas with ongoing medical conditions we would urge you to ensure you are fully stocked-up on your regular medications so you don't have to venture out during periods of severe weather.
''The public can be reassured that all emergency, public and health services are working together to provide a safe and effective service to all affected communities.''