Somerset: Military To Help Flood Victims
30 January 2014, 15:29 | Updated: 30 January 2014, 15:37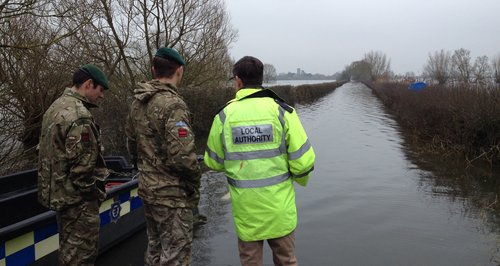 Specialist military vehicles and help could be in Somerset within 24 hours after a meeting of the Government emergency committee Cobra yesterday.
Somerset County Council's deputy chief executive Pat Flaherty said he was delighted with the meeting and was looking forward to "swift and tangible results".
Pat Flaherty said:
'I have spoken directly to the Environment Secretary and had a fruitful discussion.
'We talked about the availability of specialist military vehicles and I have spoken to senior figures at the MoD. I am anticipating a very fast turnaround and the arrival of vehicles and support help in a very short timescale indeed.'
The Council has been in discussions with the military for several weeks about what help might be offered. This has included discussions about amphibious vehicles, extra sandbags, and support manpower. But the pace has now increased following the Secretary of State's visit to the County on Monday.
Council Leader John Osman said:
'We are delighted with all the help we are offered.
We are now getting the very fast response that we have appealed for and that is what residents in Somerset who have faced up to this flooding crisis for more than a month really deserve.'