Stars Turn Out In Crewkerne For Lynda Bellingham Funeral
3 November 2014, 13:13 | Updated: 3 November 2014, 13:37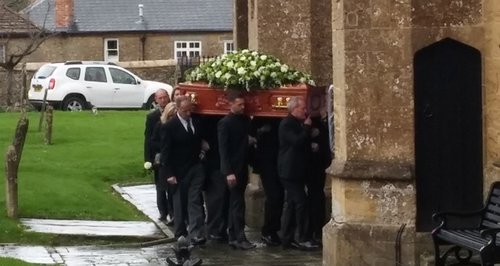 Stars of stage and screen have gathered in Somerset to say goodbye to actress Lynda Bellingham.
Many of the guests arriving at the church were carrying umbrellas due to the rain, as more than 100 members of the public lined the path outside the church to pay their respects.

Bellingham had asked for a lively send-off, so her husband, Michael Pattemore, lined up a string of acts to make the funeral a Royal Variety-style celebration of the much-loved actress's life. Her friend, former Archdeacon of London Peter Delaney MBE, led the service at the church, which holds 300 guests.

A memorial service will take place in London in February next year.

Among the showbiz stars gathering for the funeral were Loose Women Coleen Nolan, Jane McDonald, Andrea McLean and Kate Thornton, as well as Julia Sawalha, Coronation Street's Helen Worth, Robert Lindsay, Giles Brandreth and Downton Abbey's Julian Fellowes. Also attending was her screen husband from the hit Oxo adverts, Michael Redfern.

The actress, who died of cancer last month, was 66.

The TV star, best known for her long-running role as the mother in a squabbling family the Oxo adverts since the 1980s, had colon cancer which later spread to her lungs and liver. She was diagnosed last July but recently said she had decided to end her treatment to limit the amount of suffering her family would witness. In her last few weeks, she spoke openly about her illness and its effect on her family.

One of her last wishes was to spend one more Christmas at home with them, but Mr Pattemore said the advanced state of her illness meant it was clear she was unable to die at home as she dearly wished. He told Yours magazine, for which his late wife was a columnist:
"She was in too much pain and they didn't have it under control enough for me to be able to look after her. I can tell you now that the words on her gravestone will be 'The curtain went up on May 31 1948, and the final curtain went down on October 19 2014'.''

Bellingham's acting career included the title role in sitcom Faith In The Future and regular stage roles. She was also a regular on panel show Loose Women, and filmed a special farewell episode where she spoke about her illness.

Her Loose Women co-presenter Nadia Sawalha, who also appeared with her in the Oxo adverts, paid tribute to a "brilliant actress''. She said Bellingham told her fellow Loose Women panellists: " 'Please, when I'm gone, have a big party for me and have a dance' and that's Lynda through and through.''

The actress's decision to end her treatment was revealed in a newspaper serialisation of her autobiography which was published 10 days before she died. The mother-of-two was awarded an OBE in the New Year Honours list for her charity work.

Bellingham, whose sister Barbara died from lung cancer, had been a high-profile supporter of Cancer Research UK and Macmillan Cancer Support.

The actress, who was adopted, published a best-selling memoir, Lost And Found, which dealt with her search for her birth mother. She also wrote a novel, Tell Me Tomorrow, which was published last year.

She married Pattemore, who was her third husband, on her 60th birthday.

The service began as Bellingham's husband Michael, and sons Michael, 31, and Robert, 26, helped carry her wooden coffin adorned with white flowers into the church as Elgar's Nimrod - The Enigma Variations played.

Mourners following in behind the coffin wept as they carried single white roses. The congregation sang the hymn Lead Us Heavenly Father before Loose Women star Lisa Maxwell read The Epistle to the Romans (ch 8.31-39).