Weston: Four Jailed For Drug Offences
29 July 2014, 08:17 | Updated: 29 July 2014, 08:20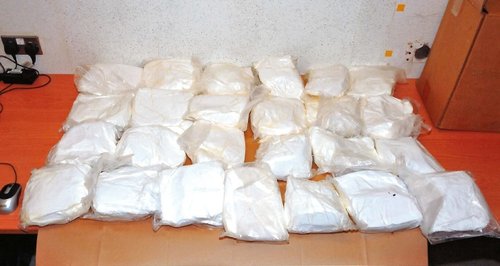 Four men from Weston-super-Mare have been were jailed at Bristol Crown Court for a total of 33 years after admitting producing and dealing drugs.
They were charged with the offences following a successful joint operation between Zephyr, the regional organised crime unit and officers from the North Somerset policing area.
The court heard that the men were jailed for conspiracy to supply 56kgs of class A and B drugs and 21kgs of mixing agent, which when diluted had an estimated street value of £1.55m Two men.
Stephen Bailey, aged 45 and Garry Parkinson, aged 49, were arrested on the A370 near to Flax Bourton on March 14. A large amount of amphetamines was seized.
On the same day a second car was stopped in Nutwell Square in Worle and Shaun Smith (aged 49) arrested. A fourth man, 38-year-old Simon Kellaway, was also arrested.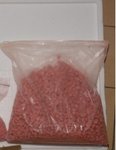 Further investigation resulted in the seizure of a 10-tonne press. During the course of the investigation, officers seized: 50kgs of amphetamine; 556gms of cocaine; 2.6kgs and 4717 MDMA (ecstasy) tablets; 1.2kgs of cannabis; 10,300 class C tablets; and 21kgs of mixing agent. Additionally a pill-making machine plus vacuum packing machines and bags were confiscated.
Garry Parkinson, aged 50 of Paragon Road, WsM was jailed for 12 years; Simon Kellaway , aged 38 of Longridge Way, WsM received an eight year jail term; Shaun Smith, aged 49 of Swiss Road, WsM was jailed for seven years; and Stephen Bailey aged 45 of Stanley Grove, WsM was sentenced to a six year jail term.
In addition the Zephyr forfeiture team were successful in securing a five-year Serious Crime Prevention Order against Gary Parkinson, which places significant restrictions when he is released from prison, including restrictions on change of address and travel as well as what bank accounts, computers and phones he can have.
DI Chris Saunders of Weston-super-Mare CID said: ''Controlled drugs have always been something that we take seriously in North Somerset. Many residents have seen the negative impact drugs can have on the community such as anti-social behaviour, violence and criminal damage caused by people under the influence of drugs, or crimes carried out to fund their drug use.
''Our commitment and the court result will reassure people especially those living in Weston-super-Mare that we will pursue those intent on following a life of illegal drug activity and bring them before the courts.
''The court decision and hefty jail sentence should have a positive impact but we refuse to be complacent and will remain focused and committed to working with Zephyr and other multi agency partners to disrupt, dismantle and destroy organised drug groups in North Somerset, which can have such a negative impact on our communities.''