Weston: Sand Sculptures Damaged
5 May 2014, 09:17 | Updated: 5 May 2014, 09:20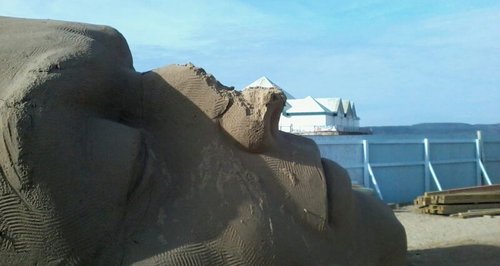 A number of sculptures have been damaged at the Sand Sculpture Festival in Weston-super-Mare.
Organisers says the culprits broke in on Saturday night, armed with metal bars.
The festival's security system was activated immediately and security staff who is present 24/7, managed to prevent further damage. However, the vandals severely damaged three of the almost 30 sand sculptures, which will take days to repair. The total costs are estimated at thousands of pounds.
"Fortunately, we still have three very talented artists on site this week" says Cindy Lap, project Manager.
"These professional artists from three different countries were supposed to be working on our Demo-Blocks within the exhibition creating new pieces of art, but they will now have to spend their time repairing this unnecessary damage".

Festival organisers say that the Town's Street wardens responded very quickly to their call for help. Police have been to investigate and CCTV footage has been checked. Three males have been captured on camera and a close-up photo of the vandals is now being generated.
The organisers are offering a reward to anyone that has any more information which leads them to the culprits.
Rachel Stubbs, who is the resident sculptor of the festival says "It's extremely frustrating! I just don't understand why someone would want to damage our work?! We spend weeks on the creation of the sculptures, and it just takes seconds to damages them"
After the severe vandalism that the festival suffered in 2012, organisers have had to invest in a 24/7 security system.
Cindy Lap: "It is very sad that this proves to be necessary, but we are happy that the system works"