Armed Forces Parade And Ceremony In Portsmouth
24 June 2014, 18:14 | Updated: 24 June 2014, 18:21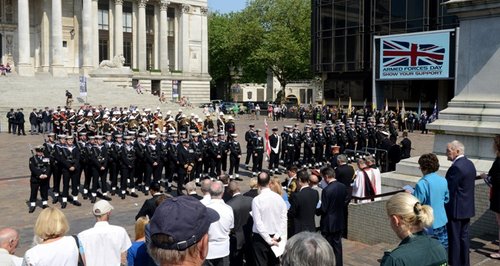 A step towards completing Portsmouth's Second World War memorial has been taken as part of events leading up to Armed Forces Day on Saturday.
In 1989, local resident Jean Louth started a campaign for a permanent memorial to recognise Portsmouth people who died during the war, including her father Harry Short, killed at Dunkirk.

Today (June 24) she watched the unveiling of a panel on the memorial that includes her father's name.

The memorial was originally unveiled in 2005 by Princess Alexandra after two decades of fundraising by campaigners, led by Mrs Louth.

It commemorates service personnel and civilians from Portsmouth who lost their lives. The unveiling of the memorial marked the start of a new campaign to raise funds to install stone panels around the memorial, inscribed with about 3,000 names in total.

Through the fundraising efforts of the WW2 Memorial Fund, all of these names have now been gathered. The panel including Harry Short's name is almost the final one to be installed.

It was unveiled by Mrs Louth and Admiral Sir Jonathon Band, Deputy Lieutenant of Hampshire. A bugler fanfare then took place.

The ceremony was preceded by a parade of serving armed forces personnel and veterans led into the square by the Band of
Her Majesty's Royal Marines Portsmouth (Royal Band).

The ceremony was attended by Admiral Band, representing Her Majesty's Lord-Lieutenant; the Lord Mayor of Portsmouth, Cllr Steven Wylie; members of Portsmouth City Council and senior representatives of the armed forces.

The Armed Forces Day flag was raised as part of the ceremony and will fly all week.

Armed Forces Day itself is held nationally this Saturday (June 28) to raise awareness of the vital contribution our armed forces make and have made to our security and well-being.