Bosham Murder: New Leads After TV Appeal
29 April 2014, 10:36
Police say a fresh TV appeal over the murder of Valerie Graves in Bosham near Chichester has given them new names of possible suspects.
Artist Valerie Graves, 55, was found bludgeoned to death with a claw hammer in the village of Bosham, near Chichester on 30 December 2013.
Police say it's led to 25 calls, eight of which they've described as 'very interesting' and say they will follow up today.

Valerie was murdered as she house-sat with her mother, sister and her sister's partner, Nigel Acres, while the owners holidayed abroad over Christmas.

Last night (Monday 28 April), a reconstruction and a fresh appeal was aired on Crimewatch featuring her children, Tim Wood and Jemima Harrison.

Mr Wood said it was his mother's birthday over the festive season, so they would have a "double celebration'' on Christmas Day.

Ms Harrison said:
"We always did Christmas as a family. We were always together. Birthday celebrations in the morning and Christmas in the afternoon.

"She liked having the grandchildren round for Christmas. I know we were really important to mum and that she was proud of us and she spoke highly of us.''

Ms Graves, who had recently moved back to Sussex from Scotland to be closer to her family, went to bed at 10pm on Sunday 29 December.

She was found dead by one of her three relatives at around 10am the following day in the bedroom where she had been sleeping.

A post-mortem examination revealed she had suffered significant head and facial injuries, police have previously revealed.

The death shocked the small community of Bosham, which featured in an episode of ITV crime drama Midsomer Murders.

Detective Superintendent Nick May, of the Surrey and Sussex major crime team, said after the Crimewatch appeal that they've already had more than 20 calls, at least eight of which they will be following up.
He said:
"We know that a hammer is not usually used by burglars and the murderer would have known the amount of harm they could inflict on someone with the hammer, when they entered the house.

"It is likely that this person would have a history of violence and this would be known to someone close to them or to a professional who has worked with them, either now or in the past.''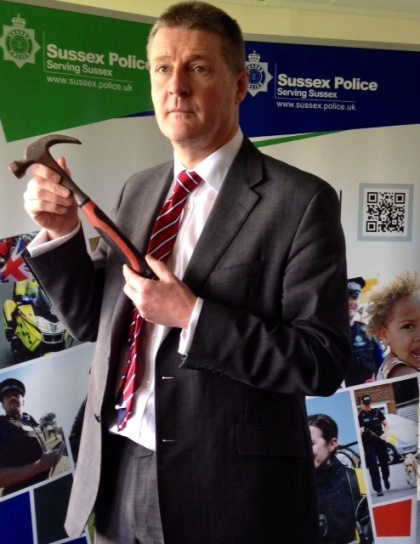 Despite a £10,000 reward and the involvement of the National Crime Agency to provide offender profiling, no-one has been charged.

A 22-year-old man arrested in January was freed without charge in March.
Anyone with information is asked to call Sussex Police on 101, quoting Operation Ensign.