Brothers Jailed For Life For Eastleigh Newsagent Murder
19 December 2014, 12:59 | Updated: 19 December 2014, 13:08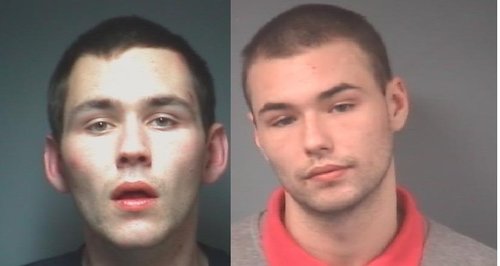 Two brothers, found guilty of murdering a newsagent in Eastleigh, have both been jailed for life.
Jonathan McKinley, who is 23, (pictured left) and 25-year-old Samuel McKinley (right) robbed and beat up newsagent Choudhry Zishan just yards from his home. They've been told they'll each serve at least 28 years behind bars.
The 35-year-old died in hospital after being attacked as he left to go to work at his shop in March.
His wife was pregnant wife their second child at the time.
The two brothers, both of no fixed address, were convicted on Wednesday (17 December) following unanimous decisions by a jury at Winchester Crown Court.

Following the verdicts, Terri Connor, Senior Crown Prosecutor for the Crown Prosecution Service said:
"Jonathan and Samuel McKinley launched a sustained and gratuitous attack on Choudhry Zishan, an innocent man who was on his way to work, and it was his misfortune to walk into the path of the McKinley brothers in the early morning of 30 March this year.

"Witnesses living nearby were awoken by the sound of the attack. Repeated threats and demands for money were heard including "Give me the money or I'll stab you in the face' and some even saw some movements, a man being savagely attacked. One witness saw an attacker repeatedly punching down and heard the victim shout 'You're hurting me' and said that the victim made a sound that was not a scream rather 'it was the most horrendous noise ever heard from a human', it depicted pain.
"Another witness described it as a 'howl'. That witness also described repeated blows and kicks to a man clearly unable to defend himself, leaving Mr Zishan unconscious. During the course of this incident that went on for over six minutes, property was stolen from Mr Zishan. Some of this property was later recovered from Jonathon McKinley.

"One of the police officers who attended the scene described Mr Zishan's body as 'crumpled...the body was in an unnatural position' His head looked 'in a bad way', the eyes were closed and swollen, there was blood everywhere.

"Mr Zishan was unresponsive but was still alive and was taken to hospital where he sadly died.

"Following the attack, the defendants who do not live at any fixed address tried to stay with different friends and relatives. As their clothes were covered in blood, they said that they had been involved in a fight with a man who tried to pester their sister. This was an attempt to justify their attack, but of course was a lie.

"Mr Zishan was a loving husband and at the time of this death was the dad of a four-year-old boy and was expecting his second child.

"Jonathan and Samuel McKinley committed a gratuitous crime motivated by pure greed, and the most tragic fact is that Mr Zishan's second child will never know her father.

"The jury after hearing both the prosecution and the defence case decided today that Jonathan and Samuel McKinley were guilty of Mr Zishan's murder.

"Our thoughts are with Mr Zishan's family."