Camilla Opens Hampshire Winery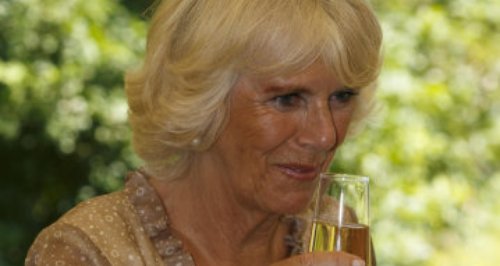 The Duchess of Cornwall has taken part in a wine-tasting during a visit to a new winery.
In her role as president of the United Kingdoms Vineyards Association, Camilla visited Hambledon Vineyard in Hampshire where she was met by owner and managing director Ian Kellett.

The duchess, whose father Major Bruce Shand was a vintner and whose grandfather Philip Morton Shand wrote a book on wine-making, undertook a tour of the state-of-the-art winery before she attended a reception where she unveiled a plaque to celebrate the facility opening.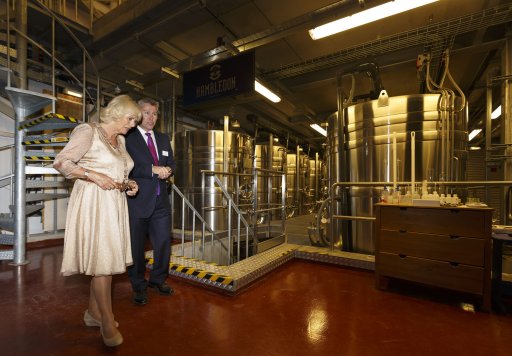 When asked about her late father's connection to wine-making, she said:

"Papa would be very impressed, he's probably having a glass of Champagne up there now.''

In the winery, the duchess tasted a selection of base wines which are then blended to make the vineyard's sparkling wines.

She also tapped a disgorged bottle which is part of the bottling process and visited the cellars and vines.

Hambledon Vineyard is England's oldest commercial vineyard, dating back to 1952.

But wine-making at the estate later ceased until Mr Kellett, a corporate finance expert, took over in 1999.

In 2005, he planted a 10-acre test bed of Chardonnay, Pinot Noir and Pinot Meunier to see which of the 27 different combinations of vine clones and rootstocks gave the best results.

The Hambledon estate now comprises 50 acres of vineyards and a new gravity-fed winery - the only one of its kind in the UK.

At the reception, the duchess said:

"It's no hardship to me at all to be president of the British Vineyards Association.

"My family have been involved in some way or another with wine for a very long time, they have written about it, they've sold it, they've drunk it.

"It's like landing the perfect job here.

"Coming today I must congratulate you, you are doing a wonderful job, it's so exciting seeing your methods. I am sure they are going to be a great success.

"I am looking forward to tasting them.''

She added: "I also think people should put their heads together and think of a new name for English sparkling wine.

"I think it should have something with much more depth.

"I plan to find a new word for it.''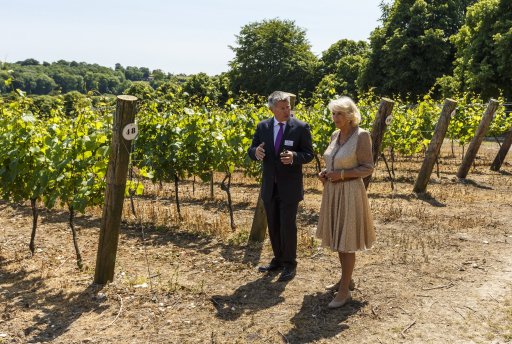 Before her visit to the vineyard, the duchess visited Sir Harold Hillier Gardens at Ampfield, near Romsey, Hampshire, to mark its 60th year and to officially open a refurbished and extended centenary border.

Camilla made a short tour of the 180-acre site and met local school children in the education garden before making her way to the 250-metre long centenary border, the length of Tower Bridge in London.

The duchess planted a sorbus 'lemon drop' tree into the border, which includes 800 different types of plants, and an identical tree will be presented to her as a gift.

Sir Harold Hillier was the third generation of a famous nursery family and started the gardens 60 years ago.

In 1964, he celebrated the 100th anniversary of his grandfather having started the nursery business by planting the centenary border.

In 1977, Sir Harold made his garden and arboretum into a charitable trust of which Hampshire County Council became the sole trustee.

In 1978 the Queen Mother accepted the gift of the gardens in trust on behalf of Hampshire County Council.

After unveiling a plaque to mark her visit and the 60th anniversary of Hampshire County Council's Sir Harold Hillier Gardens, the duchess said:

"I don't normally get an outing like this. I just wish I could have spent more time here.

"Next time I will come back and I will bring my husband. Congratulations to you all, I think it is fantastic.''