Chef Jailed For Portsmouth Navy Dockyard Arson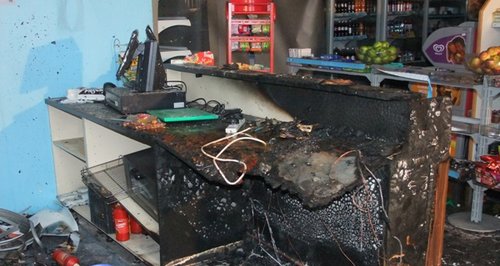 A Royal Navy chef who burgled a shop in Portsmouth Dockyard before setting light to it has been sentenced to three years in military prison.
Daniel Scaife, 21, broke into the NAAFI building in the early hours of February 5 last year and stole money from the till before pouring lighter fluid around the premises and setting it alight.

Hampshire Fire and Rescue Service sent crews from Southsea, Cosham, Portchester and Hightown to extinguish the blaze.

A joint investigation into the blaze was then carried out by the military's own fire department along with HFRS, Ministry of Defence CID, Royal Navy police and Hampshire Police's CSI.

Scaife was charged with burglary and arson and admitted both charges at a court martial hearing. He was given three years in the military prison at Colchester and was dismissed from the Navy.

Andy Earl, from HFRS's Arson Task Force, said:

"This was a senseless act that could have easily escalated into something more serious.

"The investigation was complex and involved several different agencies working very closely together. Scaife was then arrested and charged within days of the incident.

"The conviction was achieved thanks to the excellent joint work carried out by all the parties involved and we hope sends out a strong message to anyone considering carrying out a similar act."

Scaife broke into the shop on HM Naval Base at around 01:30 and took money from the till, before using cans of lighter fluid from the cigarette counter to set the shop alight.

The alarm was raised by a taxi driver who spotted flames in the counter area of the shop and firefighters forced entry to tackle the blaze.

The investigation found several seats of fire and HFRS search dogs, Saxon and Inca, detected traces of an ignitable liquid.

Scaife's clothes were seized and the dogs found traces of flammable fluid on his trainers. External CCTV then placed him outside the building just before the fire.