Threat of Flooding Continues In Hampshire
15 February 2014, 06:10 | Updated: 15 February 2014, 16:16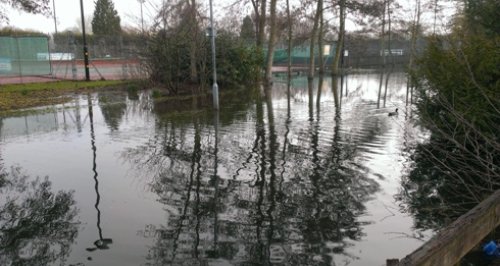 The threat of flooding continues in Hampshire after Friday's severe storm.
With the ground saturated, and Hampshire County Council says it'll have crews on around the clock this weekend and has diverted resources to help keep Hampshire moving.

Around 40-50 extra staff have been moved to Highways to help the relief efforts in more than 100 communities across the county.

Since Christmas Eve, the County Council's highways staff have responded to more than 7,000 incidents on the roads, including clearing around 1,000 fallen trees. So far, over 50,000 sandbags have been filled and deployed across Hampshire.

With the start of half term many people will be heading out on to the roads and drivers are advised to:

• Check your route before you set off – road closures and roads affected by flooding in Hampshire can be found at www..hants.gov.uk

• Take extra care in these severe conditions and drive carefully through water at all times.

• Be considerate of other road users and avoid washing water in to houses adjacent to roads by the bow waves of your vehicle

• Observe road closures and do not move signs, as they are clearly in place for safety reasons

Further advice on driving safely in adverse weather conditions

Parents and carers are also being urged to follow safety precautions and not to let children play in floodwater. If you have been flooded, or live near a river in flood remember that accidents happen in fast flowing floodwater so avoid walking or driving in or near floodwater. Avoid costal areas if possible. Flood water can hide many hazards if you or your family must go into flood water remember there could be hidden dangers like sharp objects, raised manhole covers and pollution. Flood water is unclean and potentially contains harmful bacteria which can lead to infection so wash your hands regularly, and ensure your children do the same. If clean water is not available use hand sanitising gel or wet wipes.

Leader of Hampshire County Council, Councillor Roy Perry, said: "The County Council has been deploying all the resources it has available to keep people safe and keep Hampshire moving. We're doing everything we can, but some disruption is inevitable and we will keep our website and Twitter alerts up-to-date with the latest information to enable people to plan journeys.

"So far the response we have seen from the people of Hampshire in flood-hit areas has been tremendous, showing true community spirit. It is important that individuals continue to play their part and heed the safety warnings and advice being issued by the agencies involved in tackling the effects of the severe weather."

A list of roads currently affected by flooding is available at: www.hants.gov.uk

People can report road problems online or by calling 01329 225393.

Flood warnings can be found on the Environment Agency website.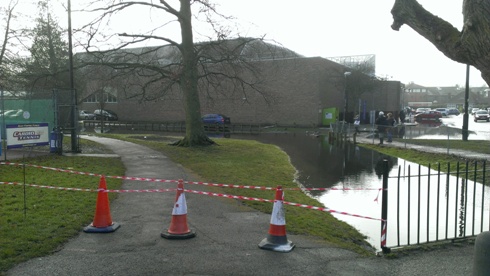 The River Park Leisure Centre in Winchester (above) is closed due to flooding. The City Council said:
"River Park Leisure Centre (RPLC) will remain closed due to the adverse weather and flooding up to an including the morning of Monday 17 February 2014 when a further review of the situation will take place.
"Please check the RPLC website for more information and a list of alternative leisure centres members can use for free during our closure. Apologies for any inconvenience this may cause."

"There are many roads affected by flooding in Winchester, some of which are closed. Please do not ignore the road closed signs it is a last resort for the safety of motorists and to protect homes. Please do not remove them."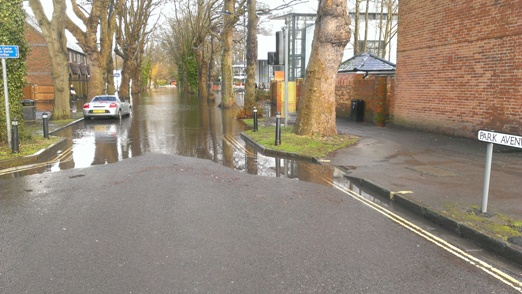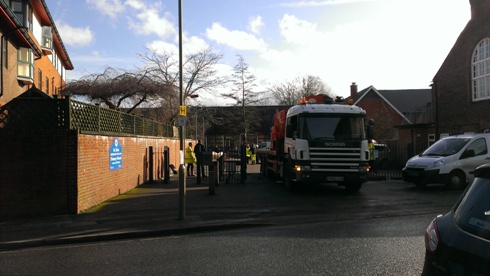 Arrangements have been made for around 330 children from St Bede's School in Winchester to relocate to temporary classrooms that will be constructed on the Henry Beaufort Secondary School site in Winchester. This will accommodate children from Reception through to Year 4 (age 4 to 9 years). The remaining 110 pupils in Years 5 and 6 (10 and 11 years) can remain at St Bede's because of the temporary sanitary facilities in place.

Work is underway to ensure this provision is in place for a phased return, with the St Bede's school building opening for Year 6 pupils on Thursday 13 February and to both Years 5 and 6 on 24 February after the half term holiday. It is anticipated that the temporary accommodation at Henry Beaufort school will be available for Year R to Year 4 children from 3 March. In the meantime, The Westgate School will be providing temporary accommodation for Year 3 and 4 pupils for Thursday 13 and Friday 14 February and for the week beginning 24 February.

The County Council will seek to provide transport to carry the children from St Bede's to Henry Beaufort each morning, returning them at the end of the school day. In the interest of safeguarding children, the timings for morning drop offs and afternoon pick-ups will be co-ordinated to take place after arrival and departure times for the secondary students at that site.

Councillor Peter Edgar, Executive Member for Education at Hampshire County Council, said:
"After keeping a close eye on developments at the school and providing constant support and advice, the County Council's Children's Services team has worked swiftly with colleagues in Property Services to help the school find a way to keep the interruption to the children's education as short as possible. The Headteacher Louise Fitzpatrick, and her staff, have been working extremely hard in difficult circumstances and are to be commended for their commitment and resolve. Thanks must also go Sue Hearle, Henry Beaufort's Headteacher, for her co-operation and ready agreement to our request to site the temporary classrooms for St Bede's at her school.

"I fully appreciate that there are other schools in the county that have been affected by flooding and we are providing them with our support where it is needed."

Louise Fitzpatrick commented:
"I am very grateful to the County Council and Henry Beaufort School in coming to our aid, and also to The Westgate School for contacting me to offer temporary accommodation for our Year 3 and 4 pupils until the classrooms at Henry Beaufort are ready. Clearly, my priority is to maintain the children's education with as little interruption as possible while ensuring their health and well-being. I am grateful to the staff and parents who have been so supportive during this challenging time.. Over the next couple of weeks, staff who would normally be teaching Years R, 1 and 2 will be devoting their time to sorting out all the resources and moves that will be needed to relocate to our temporary accommodation so that we can get on with what we do best – teaching the children."

Following the floods in 2000, Hampshire County Council invested around £2 million to refurbish St Bede school and, in particular, raise the floor level sufficiently to protect the building from future flood damage. In spite of the unprecedented volumes of rain fall, rising ground water and river levels, the school buildings continue to remain dry. This means that as soon as flood water recedes, preparations can be made to return to the school building.
There's more information on the school's website.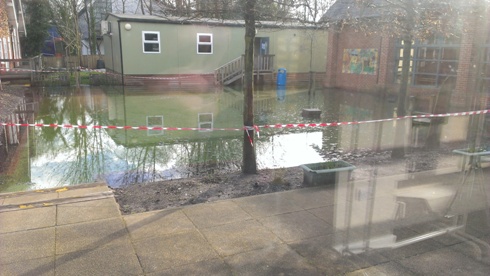 In Romsey, the A3057 Greatbridge Road into the town, Budds Lane and Fishlake Meadows (below) are still badly affected.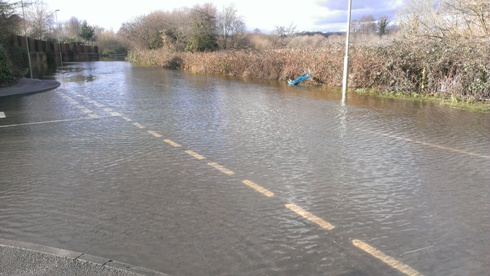 Work has been coordinated to support the Hampshire Local Resilience Forum through the multi-agency Response Working Group based at Hampshire Constabulary's Netley base. It has included filling and deploying sandbags, putting in place booms and pumping out floodwater from affected areas.
The Environment Agency (EA) has opened it's incident room at it's Romsey District Office, to co-ordinate the on-the-ground response for most of Hampshire and the Isle of Wight.
Lots of roads remain flooded and public transport disrupted. You can check all the latest travel information here.
Hampshire Fire and Rescue Service (HFRS) have issued advice to householders and businesses who have been running pumps to remove floodwater from their properties.

Neil Odin, Assistant Chief Officer for Hampshire Fire and Rescue Service, said:
"Many owners of properties have taken the important step of protecting themselves by using pumps to remove water from their homes and businesses, some for many weeks now.

"We have been working with these communities and we absolutely support the use of these tools for flood-hit residents but we also want to ensure they are being used safely and sensibly.

"Any fuel-driven equipment should not be used indoors - petrol and diesel pumps and generators emit CO within the exhaust gases and this can be deadly.

"If you are using any fuel-driven device within two metres of your home keep all windows and doors shut."

ACO Odin said, where possible, residents should fit CO detectors in their home to provide early indication of the build up of this dangerous gas.

Advice on CO has been offered by Hampshire Fire and Rescue as part of ongoing work with local flood action groups and during visits to flood-affected community.

For more information on CO go to bluewatch.co.uk or the Health and Safety Executive CO at http://www.hse.gov.uk/gas/domestic/index.htm.