Funeral For Arctic Star Campaigner
11 July 2013, 18:19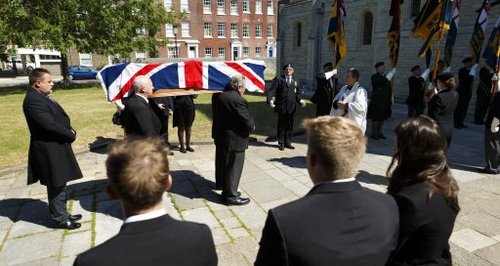 Family members, ex-servicemen, community leaders and MPs were among the mourners who turned out for the funeral of the leading figure in the campaign to have the Arctic Star medal awarded.
Commander Eddie Grenfell, 93, died on June 28 just over three months after he was presented with the medal for his service on the Arctic convoys in the Second World War.

He had lobbied tirelessly for 16 years for the medal to be created and was the first veteran to receive the star.

A lone piper played as Cdr Grenfell's coffin, draped in an Union Jack, was carried into Portsmouth's Anglican Cathedral where it was met by 12 standard bearers.

Following behind were members of his family including his daughters Trudie and Erika.

Among those who attended the ceremony were local MPs Mike Hancock, Liberal Democrat, and Caroline Dinenage, Conservative, and leader of Portsmouth City Council Gerald Vernon-Jackson.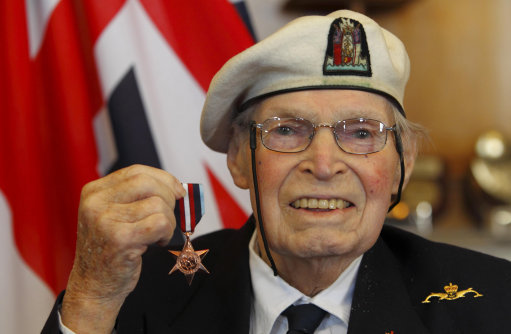 Leading the service, Canon Michael Tristram said:

"It's a sign of the affection and respect for Eddie that so many of you are here today, including representatives from the Royal Navy, Russia and Germany, representing key elements of his long and full life as well as colleagues from the (Portsmouth) News and so many others from the city council and community who have got to know him as he led that campaign over the last 17 years to get proper recognition for those who served in the Arctic convoys.''

He added: "Indeed how thankful we are that he survived long enough to see the fruit of his long campaign.''

The standard of the southern branch of the Russian Convoy Club was amongst those on display in the cathedral for Cdr Grenfell, who was a grandfather and great-grandfather.

After the decision was made last December to award the star, the Government was urged to act quickly because of the advancing age and ill-health of Cdr Grenfell and other veterans.

Cdr Grenfell was released from hospital three weeks before he was awarded the medal on March 19.

He was given his own special ceremony at the mayor's parlour at Portsmouth Guildhall as he had been too ill to travel to the presentation with the Prime Minister David Cameron in London.

The Chief of the Defence Staff General Sir David Richards personally requested to attend the event to recognise Cdr Grenfell's lobbying efforts and service on four of the convoys to Russia.

Cdr Grenfell arrived in a wheelchair supported by his family at the presentation.

His campaign, supported by the Portsmouth News, gained massive popular support with a petition of 42,000 signatures handed to Downing Street in 2004 as well as gaining support from local MPs.

Sir David said at the presentation: ''It's hard to comprehend what you and your comrades did battling against an enemy intent on your destruction.

''It's thoroughly humbling and we are all in awe of what you achieved.''

Cdr Grenfell said that day that it felt wonderful to be finally receiving the medal.

He said: ''If I were to mention the names of all the good people who have helped me and my deputy Lieutenant Commander Dick Dykes to win our 16-year long battle against bureaucratic injustice, our visitors would have to extend their stay in our beautiful city, Portsmouth.

''I am, however, not so churlish to ignore the part played by our Prime Minister David Cameron in achieving today's success.

''He has, as I hear, always supported our claim for the award of the British Arctic Star but was hampered by bureaucracy, just as I was.

''It is just sad that so many of my comrades are no longer with us to receive their medals today.''

He also thanked the Portsmouth News, which left a wreath at the funeral, for supporting the campaign.

The day before he died, 25 veterans were presented the Arctic Star at the Armed Forces Day parade in Portsmouth.

Last month, Cdr Grenfell won his last battle when the Government announced that veterans of the Arctic convoys would be allowed to receive the Ushakov medal from Russia.

Cdr Grenfell was born in Montrose, Scotland, but left at the age of 16 when he joined the Royal Navy and made Portsmouth his home.

Mr Tristram described during the service how Cdr Grenfell carried on in the Navy after the war, firstly as a submariner before becoming a naval attache in Bonn, Germany, in the 1960s

He said: "At the heart of his post-war career was the strongest belief that old enemies are fellow human beings, most of whom got caught up in wars not of their making - and so, much of his energy was spent putting the past behind and establishing contacts and friendships across Europe, not least in Germany and Russia.''

Mr Tristram said that he then went into a career in an import-export business in Germany but, following a car accident, he went on to become a gardener and then a tourist agent increasing links between the UK and Germany.

He continued: "It was in recognition of all that healing between the two nations that Eddie was allowed to accept the Ehrenkruz der Bundeswehr Silber from the West German government, the equivalent of our CBE, one of the few non-Germans to receive such an award.''

He said Cdr Grenfell returned to England in 1990 and went on to lead the Russian Convoy Club campaign for the Arctic Star.

Describing Cdr Grenfell, he added: "A man with a big heart with a yearning for justice and humanity, for whom 'no' was not a word he recognised, and bureaucratic brick walls, however high, never got in the way.''

A note left on one of the flower wreaths left by his family read: "Dear Daddie, Thank you for being the most wonderful, kind, loving Daddie and grandfather and great-grandfather. We love you. Trudie, Jonathan, Michelle.''