Gun Salute For Coronation Anniversary
3 June 2013, 06:43 | Updated: 3 June 2013, 13:32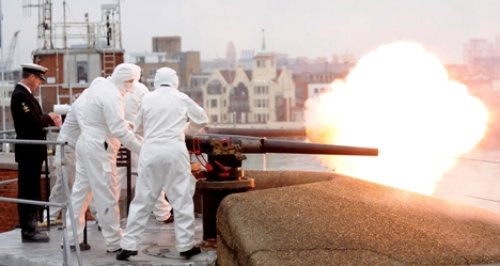 A 21-gun salute's been fired at the entrance to Portsmouth Harbour to mark the 60th anniversary of the Queen's coronation.
The saluting gun at Fort Blockhouse at Gosport - at the entrance to Portsmouth Harbour - was fired at 12 noon on Monday 3rd June, by four specialist Royal Navy gunnery instructors from HMS Collingwood at Fareham.

Although the coronation took place on 2 June 1953, this year's anniversary fell on a Sunday so the firing was delayed by 24 hours.

There will be similar gun salutes on 10 June 10 to mark the Duke of Edinburgh's birthday and 15 June for the Queen's official birthday.

Commander David Hilton, Base Services Manager at Portsmouth Naval Base, said:
"It is tradition for the Royal Navy to mark important anniversaries of the Royal Family in this way. Also in keeping with tradition, the ships alongside in the Naval Base will be "dressed overall" with colourful flags stretching the entire length of the ship."

The custom of Navy gun salutes dates back to the early days of sail when ships visiting foreign ports would discharge their guns before entering, proving they were empty and that the visit was peaceful.

The portable 19th century gun at Fort Blockhouse has been firing salutes since it was acquired by the Navy in 1957.