Hampshire Experts Download Flight MH17's Black Boxes
23 July 2014, 19:05 | Updated: 24 July 2014, 06:29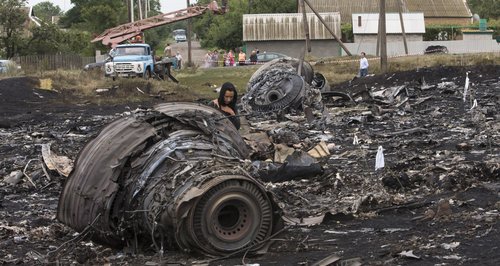 Air crash investigators in Hampshire have been able to download "valid'' information from the flight MH17 black box cockpit voice recorder.
The Dutch Safety Board which is leading the investigation into the Malaysia Airlines tragedy said an international team of investigators, working in Hampshire, had conducted a thorough examination of the cockpit voice recorder (VCR) .

The board went on:

``The CVR was damaged but the memory module was intact. Furthermore no evidence or indications of manipulation of the CVR was found.

``Following the examination, the CVR data was successfully downloaded and contained valid data from the flight.

``The downloaded data have to be further analysed and investigated.''
The Dutch Safety Board (DSB) added: ``A thorough analysis of the information obtained will take time, the results of this will be included in the investigation.

``Now the team will start the examination of the (black box) flight data recorder (FDR). This will show whether this recorder also contains relevant information, in which case the data from both recorders will be combined.''

The black boxes were delivered to the UK Air Accidents Investigation Branch (AAIB) headquarters in Farnborough earlier today.

As the first 40 bodies from the crash site arrived in the Netherlands, the AAIB and other experts began their examination of the boxes.

The CVR will have given them a recording of up to two hours' conversation between the pilots.

The FDR will provide them with a record of how the plane's multiple parts were operating and were being operated.
It is possible that the information from CVR handed over to the Dutch could give an indication of whether the pilots were aware of a missile coming towards the plane.

There is also the possibility that what happened in the last few seconds of the flight could be disclosed in any words the pilots were able to speak.

The FDR could give the AAIB team an indication of the differences in speed and pitch of the plane after it was, apparently, hit.

Meanwhile in Eindhoven in Holland, the long, slow task - movingly carried out by Dutch military men - of unloading 40 coffins from two military planes was being completed.

Bells tolled throughout the Netherlands as the planes landed from Ukraine, with the Dutch king Willem-Alexander and queen Maxima as well as the prime minister Mark Rutte, at Eindhoven to see the aircraft arrive.

The coffins were taken away in hearses for an identification process that could take weeks.

Relatives of the 298 people, including 10 Britons, who died aboard flight MH17 were also at Eindhoven.

Also in Holland today was Barry Sweeney, father of Newcastle United football fan Liam Sweeney, who was on board MH17 on his way to see his team play in a pre-season friendly in New Zealand.

He told ITV News that the grieving families ``need closure'' through the return of the victims' bodies and their burials. He also spoke about how it feels to walk in his son's footsteps, making the same journey to Amsterdam just six days after his son.

To mark the arrival of the bodies in Holland the Union flag and Dutch flag were flown at half-mast over Downing Street in London.

It is the Netherlands that has born the brunt of the tragedy, with 193 Dutch lives lost, including many children.

Even as the planes were flying to Eindhoven, news came through of further violence in the Ukraine, with reports that two Ukrainian military fighter jets had been shot down about 20 miles south of the MH17 crash site.

After the two giant planes had come to a halt on the runway, a trumpeter played The Last Post as Dutch troops saluted. This was followed by a one-minute silence.

In a statement, the Dutch Safety Board (DSB) said the on-site investigation in Ukraine was ``currently in full swing''.

But it added: ``Although investigators still do not have safe access to the crash site, work to gather and analyse data from various sources is under way in both Kiev and the Netherlands.''

As far as the on-site investigation was concerned, the DSB said: ``At the time of writing, the investigators have not yet been able to visit the site of the crash and conduct their investigation under safe conditions.

``In order to conduct an effective investigation, the investigators must have the opportunity to move around the entire investigation site freely, investigate materials and traces from up close and secure them for further study where necessary.''

The board went on: ``At present, the investigators' safety has not been guaranteed. The DSB and other parties involved are continually working to gain access to the accident site, and are working with other parties to organise effective security so that the investigators can do their work under controlled and safe conditions.''