Winchester Fire Treated As Suspected Arson
1 October 2013, 12:06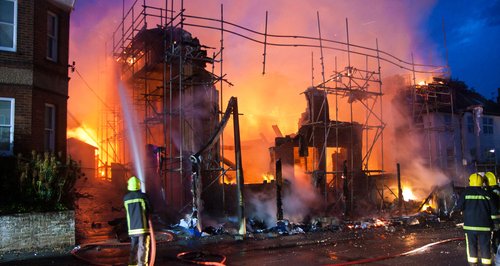 Police are treating a fire that broke out at a building site in Winchester as a suspected arson attack
Forty firefighters were called to Hatherely Road at around half past four on the morning of the 22nd August this year.
Crews from Winchester, Eastleigh and St Mary's responded.
Part of the front of the property collapsed during the fire, leading to the evacuation of ten nearby homes.
Andy Earl, Fire Investigation Officer for Hampshire Fire and Rescue Service said:
"A joint agency investigation in partnership with Hampshire Police was launched immediately to determine the cause of the fire.
"This investigation is still on-going, but, at this time, the investigation has ruled that the fire was not started by an accidental ignition source such as faulty electrics or by any of the on-site staff who had been working at the property the previous day.
"The scene investigation was carried out by Hampshire Fire and Rescue Service Specialist Fire Investigators, the Fire Investigation Support Unit, Fire Investigation Search Dogs, Hampshire Constabulary Crime Scene Investigators and Detectives''.
Both Hampshire Fire and Rescue Service and Hampshire Police are investigating this incident as a suspected arson attack.