Man Creates Huge Bicycle-Shaped Map Across New Forest
8 October 2014, 12:05 | Updated: 8 October 2014, 12:16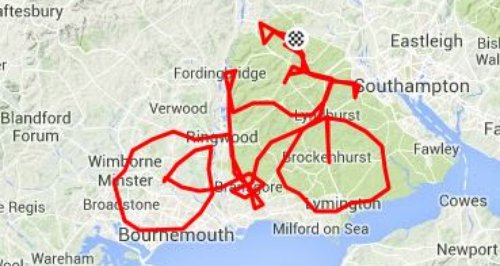 A cyclist has used a route-mapping app to draw a giant bicycle across east Dorset and the New Forest.
60-year-old David Taylor from Landford near Salisbury used the Strava app and website. It uses Google Maps to plot routes.
You can see more on Strava's website:
http://app.strava.com/activities/197409492#4650170027
Mr Taylor says it took him around eight months to draw the route, in different stages. It took him 13 hours to cycle it.
He created a 141-mile route around the New Forest shaped like a pony last year, and says he's been making map segments for about three years.
Photo credit: Strava and Google Maps.