Marwell Welcomes Baby Zebra
1 October 2013, 17:22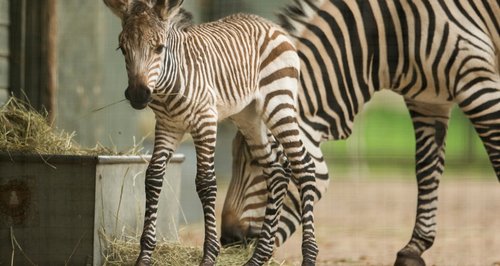 Marwell Zoo near Winchester's celebrating the birth of it's first Hartmann's zebra - in 16 years!
Keepers say the foal is now a week old and is an important animal for the future of the species.

The playful youngster was born overnight on Tuesday 24 September to first time parents Libra (Mum) and Gounzo (Dad). Keepers have named the little foal Luna, which follows a 'space' theme for Hoofstock baby names this year.

Marwell Wildlife holds the International studbook for Hartmann';s zebra and co-ordinates the European Endangered Species Programme (EEP). This ensures a healthy captive breeding programme for the species.

Tanya Langenhorst, studbook keeper and conservation biologist at Marwell said:
"The birth of this foal is not only great news for Marwell as we have not had any Hartmann's zebra foal since 1997, but is also good news for the EEP as both Mum and Dad are important animals and this is their first foal.

"The EEP is rather small with just 85 animals in 20 European institutions. It is often difficult to match a male and female and to have two more proven breeders for the future is excellent news."

The Hartmann's zebra are listed as Vulnerable in the wild with an estimated population size of 8,300 mature individuals. They occur almost exclusively in Namibia and numbers are expected to decline, largely driven by annual harvesting. Most groups live outside national parks on private land and ranches.

Marwell's last foal was born in 1997 and he was called Billy. This male moved to another collection for the breeding programme.

Ian Goodwin, Collection Manager at the zoo added:
"We have worked very hard to breed this species so the arrival of Luna is a great achievement for us.

"The foal is settling in very well and Libra is an excellent Mum considering it's her first."