Portsmouth Gets £1.75m To Transform Hot Walls Into Art Hub
1 August 2014, 08:23 | Updated: 1 August 2014, 08:24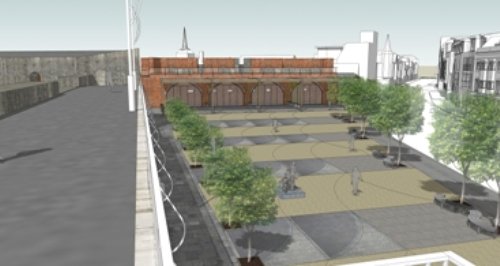 Portsmouth has been awarded £1.75m to transform the Hot Walls area into a creative hub, following a successful bid from the government's Coastal Communities Fund.
The funding means the currently empty historic arches will be converted into 13 artists' studios. There is also a proposal for a brasserie and kiosk on site. The Round Tower will be used an exhibition space.
Over 23 jobs will be created as a result of the funding and 82 positions indirectly.

The area, known locally as the hotwalls is located between the Square and Round Tower. In the 1850s the arches were called the Point Barracks and used as artillery barracks and soldiers' quarters.
Cllr Linda Symes, Portsmouth City Council's Cabinet Member for Culture said: "It is incredible news for the city that we can make a cultural hub in Old Portsmouth a reality.
"The funding is not only boost for our creative industries, but also secures the future for the local historic monuments which will be converted. They are vulnerable to damage and need ongoing investment.
"Offering reduced rent for artists means keeping talented people in the city and helps support our creative industries. Consultation has shown there is a need for artists' spaces and means we can provide for those in the early stages of their career.
"We are delighted this project has had so much support from residents, creative organisations and English Heritage. It was also the most popular suggestion in the seafront masterplan.
"We hope to have work underway within the next six months."
Consultation last summer resulted over 300 responses in favour of the project. The University of Portsmouth also voiced their support citing affordable studio space was essential for graduates to stay in the city.
English Heritage also endorsed the proposed scheme. In a letter of support Dr Richard Massey English Heritage's Assistant Inspector of Ancient Monuments said:
"English Heritage believes that this project will secure the sustainable re-use of the scheduled monument at Point Battery, and to do so in a way which both enhances its significance and secures its future management.
"Point Battery has a powerful sense of place and considerable communal heritage value, which gives it the potential for re-defining this area as a cultural focus and public space."
Alongside the £1.75m the council has put forward £100,000 and the Partnership for Urban South Hampshire (PUSH) contributed £40,000.
The arts quarter has been a vision since 2006 and featured in the council's Seafront Masterplan. Planning permission for the arches was approved December last year.