Pop-Up Theatre In Place For Southampton Arts Festival
1 August 2014, 07:10 | Updated: 1 August 2014, 07:12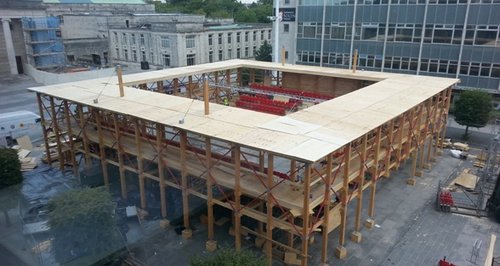 A 450-seat pop-up wooden theatre's been built in Southampton's Guildhall Square, ahead a three-week arts and music festival starting tomorrow.
'Art at the Heart' features a new play about Southampton FC, concerts and film screenings like 'Jaws' and 'Willy Wonka'.
It includes two newly commissioned plays, in partnership with some of the City's leading arts organisations: Art Asia, City Eye, John Hansard Gallery, Turner Sims, Nuffield and Mayflower Theatre.
The festival, Art at the Heart, celebrates the 50th anniversaries of both Nuffield and the City of Southampton and will take place at Nuffield's unique pop-up venue, Nuffield Playing Field, located in Guildhall Square at the heart of Southampton's Cultural Quarter. The festival and pop-up venue are precursors to the opening of the new arts complex in 2016.

Festival events include: the world premiere of Nuffield's newly commissioned play The Saints, charting the highs and lows of being a Southampton Football Club fan; Hampshire Youth Theatre's new adaptation of War Horse author Michael Morpurgo's The Best Christmas Present in the World; a series of film screenings curated by City Eye; a concert series presented by Turner Sims; a day of global music presented by Art Asia; a light installation by artist David Ward presented by John Hansard Gallery; Five of the Best performed by Mayflower Theatre Summer Youth Project and Stolen Wishes created by contemporary dance company ZoieLogic and featuring local young dancers, commissioned by Mayflower Theatre and The Point.

Sam Hodges, Chair of Art at the Heart and Creative and Executive Director of Nuffield, said:
"As Nuffield and the city celebrate their joint 50th birthday, I can't think of a better party than a setting up a stunning new pop-up venue in the centre of town, with Southampton's community the essential revellers and guests. It is great to bring so many of the City's arts organisations together to present the diverse array of work that Southampton offers.
"For Nuffield, this is the start of a commitment to work in and across the city on a regular basis; for the city, it marks the emergence of a unified cultural offer."

Councillor Simon Letts said:
"This event will bring together the best of our local arts and entertainment scene in a unique setting at the heart of our cultural quarter. I hope and expect this to be one of the high points of our 50th year celebrations, an anniversary we share with Nuffield."