Portrait Of Hampshire Author Jane Austen Sells For £164k
10 December 2013, 18:42 | Updated: 10 December 2013, 18:44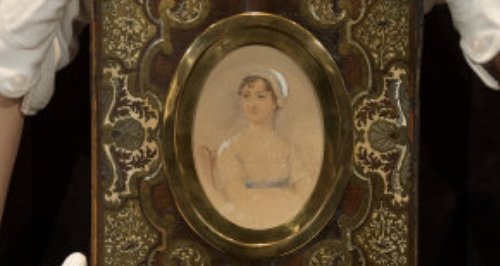 A rarely-seen watercolour of Hampshire novelist Jane Austen has sold at auction for £164,500.
The James Andrews portrait is one of the most famous images of the writer and will appear on the new £10 note from 2017.

It was commissioned by Jane Austen's nephew the Rev James Edward Austen-Leigh in 1869 to accompany the Memoir Of Jane Austen, his influential first full-length biography of the novelist.

Dr Gabriel Heaton, of Sotheby's, described it as "the most important likeness of Jane Austen ever likely to appear on the open market''.

He said: "Seeing the most famous image of Jane Austen, for the first time, in a domestic sitting room was an astonishing experience.

"This delicate watercolour is so much more than a piece of literary portraiture - it is part of our cultural history.''

A spokeswoman for Sotheby's said it had been bought by an anonymous private collector.
The author spent much of her life in Hampshire and lived at Chawton House near Alton, which is now a museum dedicated to her.