Portsmouth's HMS Illustrious Up For Sale
15 October 2013, 15:01 | Updated: 15 October 2013, 15:03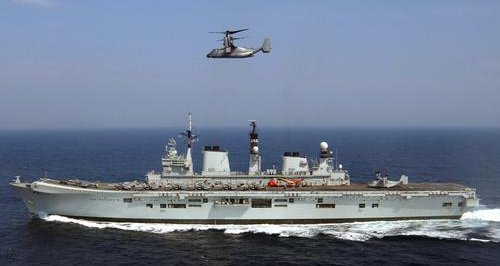 The Portsmouth-based helicopter carrier HMS Illustrious could be broken down for scrap unless a buyer comes forward to preserve it as a tourist attraction.
The warship, the last of the three Invincible-class aircraft carriers, will retire from active duty next year and the Government has launched a sale process aimed at keeping it in the UK with "part or all of it developed for heritage purposes''.

But in a Commons statement, defence minister Philip Dunne said the carrier could be sold for recycling if no suitable bids are received.

Illustrious' sister ships Ark Royal and Invincible have already been scrapped, but Mr Dunne said the Government hoped the last of the line could be preserved.

He said: "HMS Illustrious, the last of these three iconic ships, is due to retire from service with the Royal Navy in 2014.

"The Ministry of Defence's Disposal Services Authority (DSA) has today launched a competition which will seek innovative re-use bids to retain the ship in the UK, with part or all of it developed for heritage purposes.''

An industry day will be held in January for organisations "able to put forward mature and viable proposals, in keeping with the role and history of the Invincible class of ships'' followed by a "full and open competitive process''.

But he added: "In the event that no suitable re-use bids with a heritage element are submitted, the DSA will open up the competition by seeking proposals for other uses or recycling.''

The 210-metre (689ft) long ship - nicknamed Lusty - was involved in the Gulf War and the conflict in Afghanistan in 2001, and supported evacuations from Sierra Leone in 2000 and Lebanon in 2006.

HMS Illustrious was converted to be used as the navy's helicopter carrier following the Government's decision to sell the Harrier jets which operated from its flightdeck.

The decision left the Royal Navy without an aircraft carrier until the new Queen Elizabeth class enters service later this decade.

Queen Elizabeth, which is almost complete, will begin sea trials in 2017 before undertaking flight trials with the F-35 Lightning II aircraft in 2018.