Pregnant Cow Saved From Slurry Pit
8 August 2013, 16:18 | Updated: 8 August 2013, 16:43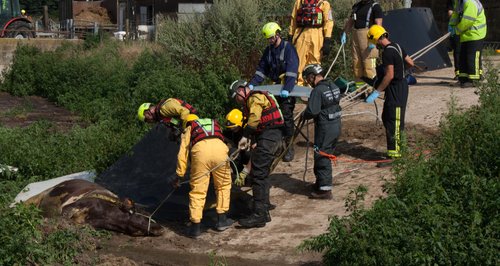 A pregnant cow's been rescued from a slurry pit in Hampshire just minutes before its calf was born.
The three-year-old Swedish Red cross Holstein heifer fell into the large 6ft deep slurry pit at Crawley near Winchester.

The heifer had started calving and was in the process of being moved to a calving pen when, in panic, she jumped a fence and fell in.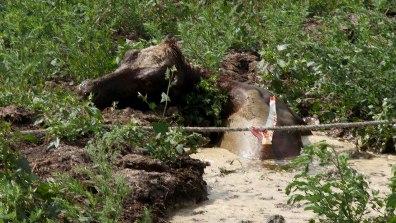 Farmers did a good job getting the cow towards the bank of the pit but when Hampshire firefighters arrived she was almost fully submerged up to her neck, desperately trying to stay afloat.

Crews used specialist animal rescue equipment and, with support from a vet, the cow was safely sedated and rescued from the slurry pit, with the hooves of the calf visible.

Just minutes later, the animal was born. Mother and calf are fit and well and were standing up and feeding only 20 minutes after the birth.

Animal rescue specialist Anton Phillips said:

"We all worked incredibly hard to save the animals but even with our efforts, this was an extraordinary rescue.

"The quick recovery of both animals is testament to their care. The mother is fit and healthy and well looked after.''