Ainslie Smashes Round The Island Record
1 June 2013, 08:16 | Updated: 2 June 2013, 07:17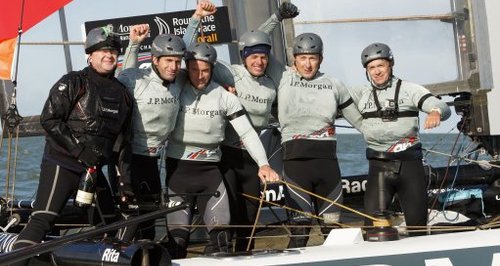 One of the world's biggest yacht races has taken place around the Isle of Wight with nearly fifteen hundred competitors taking part.
The event remembered Olympic sailing hero Andrew Simpson from Dorset with flags flying at half mast. The 36 year old's funeral was held on May 31st after he died when his boat capsized in San Francisco Bay three weeks ago.
1,459 boats entered in this year's J.P. Morgan Asset Management Round the Island Race.
Sir Ben Ainslie's 45ft America's Cup catamaran J.P. Morgan BAR sped around the Island at record breaking speed. He crossed the finish line of the 50-mile race just after 0800, slicing an impressive 16 minutes off the 12-year-old race record.
In the monohull fleet the biggest boat in the IRC classes, Mike Slade's 100ft ICAP Leopard, was not far behind. He crossed the finish line 40 minutes after Ainslie, shaving almost 10 minutes off the monohull race record he set in 2008.
Just 10 minutes later Phil Cotton's Seacart 30 trimaran, Buzz, crossed the finish line. Cotton won the Grand Prix Multihull class, half an hour ahead of Ainslie on corrected time, showing just how successful amateur sailors can be in this race.
Sir Keith Mills' TP52 5 West finished at 0935, but his team had an agonising wait until almost 1600 before he could be (provisionally) sure of securing overall victory in the IRC division. "It was a great race, although I didn't expect to win as it's usually a small boat like a Folkboat or Contessa 26 that gets it in the end," Mills said afterwards.
"It was great for the team on board today," Mills added. "They really enjoyed it and it was more special because most of us were at Bart's [Andrew Simpson] funeral yesterday – we all thought it would be a fitting tribute to him if we had a good race today."
Peter Bainbridge's J/122 Sky Hunter ll, was announced as (provisional) winner the Silver Gilt Roman Bowl for the overall winner of the ISCRS classes. The second boat on corrected time in this fleet was the second-slowest rated boat in the entire race, Gavin Mann and Robert Lewis' 39-year-old Fisher Freeward 25 motor sailer, Nexus. She finished shortly after 1600 and missed beating Sky Hunter ll by a mere 14 seconds.
The prize giving hosted by the Island Sailing Club, with trophies presented by Sir Robin Knox-Johnston, will be held at 1200 noon today (Sunday June 2).
Click here to see the full results.