Latest Stubbington Bypass Consultation Starts
9 June 2014, 11:23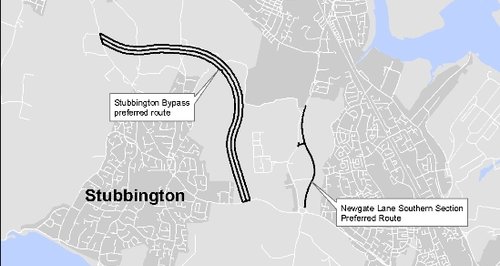 People in Gosport and Fareham are being asked for their views on a new Stubbington Bypass and other road improvements in the area.
The consultation will set out proposals for a Bypass, improvements to the Peel Common Roundabout and southern section of Newgate Lane as well as upgrades on the A27.

Speaking ahead of the consultation launch, Caroline said:

"After years of little progress, it's great to see that the wheels are finally in motion for real solutions to be found to our area's long-standing congestion problems. As well as the ongoing work at Newgate Lane, this consultation will not just address plans which will move the problem further down the road, it will present ideas for a joined-up road improvement scheme which could remedy a number of traffic complications on our roads.

I would therefore urge all those who are fed up with enduring lengthy daily commutes to take part in the consultation and give the Council the necessary evidence to get our roads moving again."

Caroline is dedicated to tackling transport problems in the local area. Last year, she welcomed the Secretary of State for Transport, Patrick McLoughlin MP, and former Transport Minister, Norman Baker MP, to the area to discuss potential solutions.

Consultation drop-in sessions to discuss the proposals will be held at:

- Crofton Community Centre: Monday 9 June, 1pm-6pm
- Titchfield Community Centre: Wednesday 11 June, 3pm-8pm
- Lee-on-the-Solent Community Centre: Friday 13 June, 3pm-7pm
- Fareham Academy/Neville Lovett School: Monday 16 June, 4pm-7pm
- Royal Sovereign Pavilion, Newgate Lane: Thursday 19 June, 2pm-7:30pm
- Crofton Community Centre: Saturday 21 June, 10am-4pm
- Fareham Academy/Neville Lovett School: Tuesday 24 June, 4pm-7pm
- Titchfield Community Centre: Wednesday 25 June, 3pm-8pm
- Peel Common Junior School: Monday 30th June, 4pm-8pm

There will also be unmanned exhibitions from Monday 9 June until the end of July at Gosport Discovery Centre, Fareham Library, Stubbington Library, Lee-on-the Solent Library and Locks Heath Library. For more information, visit: http://www3.hants.gov.uk/transport-schemes-index/stubbingtonbypass.htm.