Trafalgar Day Marked On HMS Victory
21 October 2013, 18:35 | Updated: 21 October 2013, 21:43
The annual Trafalgar Day ceremony celebrating Admiral Nelson's famous victory over the French and Spanish fleets in 1805 took place on HMS Victory today (21st Oct).
The ship, which is in dry dock at Portsmouth Historic Dockyard, was at the battle where it served as Lord Nelson's flagship and to this day remains a commissioned ship in the Royal Navy and the oldest commissioned warship in the world.

The service at 9 o'clock commemorated the 208th anniversary of the Battle of Trafalgar.

The ceremony was led by Monsignor Andrew McFadden, the Royal Navy's Principal Roman Catholic Chaplain, and attended by the Second Sea Lord Vice Admiral David Steel.

Wreaths were laid both where Lord Nelson was shot as well as deep in the ship to mark the place where he later died.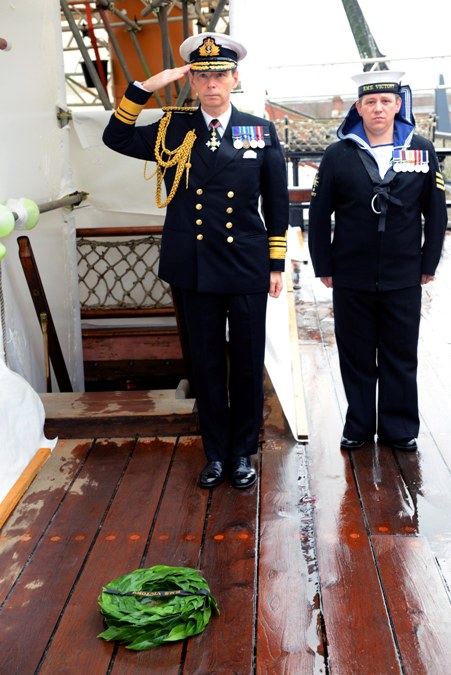 Vice Admiral Steel said "It is absolutely right that we continue to mark the significance of the Battle of Trafalgar. At the time of the battle, the Royal Navy was deployed around the world doing everything that was asked of it to ensure the security and sovereignty of the United Kingdom. With over 70% of the Royal Navy at sea as we speak the very same can be said today.''

The Battle of Trafalgar is one of the greatest battles in British naval history. Against a numerically superior Franco-Spanish Fleet it was the better tactics, leadership, equipment and personnel that won the battle.

Although the battle was a success, the victory would cost Admiral Lord Nelson his life. He died on board from a gunshot wound, just as victory was in the Royal Navy's grasp.

Victory is currently undergoing a period of refit and refurbishment as part of the National Museum of the Royal Navy's Conservation, Maintenance and Restoration plan to ensure that the Trafalgar Day Ceremony will take place for many years to come.