Two Winchester Drug Dealers Jailed For 9.5 Years
30 July 2014, 10:30 | Updated: 30 July 2014, 10:33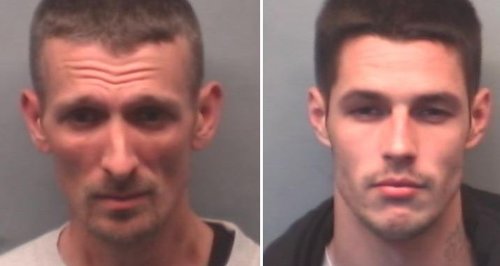 People in Winchester are being thanked for providing information which helped to secure the successful conviction of two Winchester drug dealers.
Paul Smedley, aged 34 (left), and Matthew Finn, aged 24, both from Main Road in Otterbourne, were convicted at Winchester Crown Court, of being concerned in the supply of heroin and crack cocaine.

Smedley was jailed for seven years following a trial and Finn, who pleaded guilty to the charges, was jailed for two years and six months.

Detective Constable Andy Spooner said:
"I am extremely grateful to the local community for their help in bringing these two men to justice. We need members of the public to be our eyes and ears and report anything suspicious to us.

"The sentences given to these men should send out a clear message that drug dealers are not welcome in Winchester and those people involved will be dealt with appropriately, which could result in lengthy prison sentences."

The Hampshire-wide campaign Operation Fortress is dedicated to reducing drug related violence in our local communities by targeting those concerned in the supply of illegal substances such as heroin and crack cocaine.

Operation Fortress is a campaign involving police and other agencies to reduce the harm of drug-related violence. One of the aims is to restrict the supply of drugs and officers are keen to hear from anyone who is concerned about illegal drugs or drug-related crime in their neighbourhood.

The things to look out for are as follows:

- A sudden increase in visitors to a house or flat and people only staying for a very short time
- Short exchanges between small groups of people at or close to a flat or house
- Residents leaving a flat or house on numerous occasions throughout the day and returning a short time later
- People loitering in an area and using their mobile phones frequently
- New-looking or hire cars parked outside a house or flat that wouldn't normally be there, and being driven by somebody that you wouldn't normally associate with driving that style of car.

If you have any concerns, call police on 101 or 999 if a crime is in progress. You can also email in confidence operation.fortress@hampshire.pnn.police.uk

If you don't want to speak to the police directly, you can call the Crimestoppers charity on 0800 555 111, where information can be left anonymously.