Work To Start On Huge Housing Estate Near Winchester
24 November 2014, 07:23 | Updated: 24 November 2014, 07:27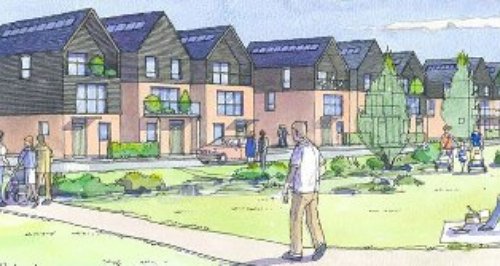 Preparation work starts near Winchester this week ahead of a massive new housing estate being built.
2,000 homes will go up at Barton Farm over the next ten years. It was finally approved after a 15-year fight against the plans by campaigners.
CALA Homes is working with its main contractor, O'Halloran O'Brien Ltd, to create a temporary junction with traffic signals on Andover Road North, which will allow access to the site once building work begins.

Rob Westwood, CALA Homes' project director for Barton Farm, said:
"We have worked in partnership with our contractors, Hampshire County Council and Winchester City Council to make these preparations which, once complete, will provide safe, convenient access to the site.

"Local residents have been kept informed and will have access to their homes at all times and traffic management will be in place to minimise any disruption to the flow of traffic."

Seán Woodward, Executive Member for Economy, Transport and Environment at Hampshire County Council, added:
"Hampshire County Council, as the Highways Authority, is working closely with Winchester City Council and CALA Homes, to ensure disruption to the travelling public is minimised during these works."

The first phase of the work will take place between 24 November - 19 December 2014, and will be left safe over Christmas and the New Year. Work will start again on 5 January 2015 and will be complete by the end of March 2015. Work will be carried out between 7.30am - 6pm, Monday - Friday and 7.30am - 1pm on Saturdays.

As well as creating a temporary junction, the work will include resurfacing and kerb works on the existing road, a new pedestrian crossing, new temporary streetlights, safety surfacing and white lines. Some small trees and hedges will need to be removed as part of the work.
It is expected that most of the new paving will be retained as part of a permanent smaller junction once the Andover Road is diverted through the new development.

Building work on phases 1A and 1B of Barton Farm is expected to begin before the end of the year and will include 423 one and two bedroom apartments and two, three, four and five bedroom houses.
Phases 1A and 1B form part of CALA Homes' wider proposals to build a sustainable new community, which will include 2,000 private and affordable homes, a primary school, a community centre, public open space, sports pitches, children's play areas, a village green and a town square.