Kingsbridge: Ambulance Crew Receive Bravery Award
11 April 2014, 08:53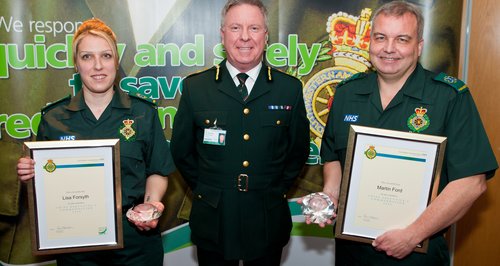 Two Paramedics from the South Hams have been recognised for their personal bravery and professionalism when attending an incident near Kingsbridge last August.
A 999 call was received by South Western Ambulance Service NHS Foundation Trust (SWASFT), reporting that a male had fallen from a cliff at Thurlestone near Kingsbridge.
In order to access the patient the attending crew, Lisa Forsyth and Martin Ford, had to travel to the base of the cliff in an independent lifeboat inshore rigid-hulled inflatable boat (RIB).
Due to the choppy conditions they then had to wade in knee-deep water carrying their kit.
The patient was safely transferred into the lifeboat but in order for the crew to do this they had to enter the choppy sea conditions to assist the transfer alongside their coastguard and lifeboat counterparts.
Whilst doing this Martin fell into the water and his buoyancy aid inflated as he scrambled back to the rocks.
Lisa was hauled onto the RIB and then winched into the helicopter, continuing to provide care for the patient en route to Derriford Hospital.
Ken Wenman, SWASFT Chief Executive said: "Our staff can be called to any kind of incident so are always prepared for anything but the bravery they displayed during this incident, for the benefit of their patient, was truly deserving of the award they received."