Camborne: Dog Taken In Burglary
29 April 2014, 14:01 | Updated: 29 April 2014, 14:12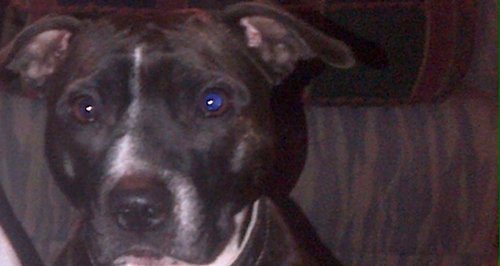 A dog stolen from a shed in Uglow Close, Camborne, at the weekend is still missing and officers are appealing for her to be returned.
On Sunday 27 April the owner came home at 11.45pm to find the window to the shed had been smashed and two Staffordshire Bull Terriers had been taken.
One of the dogs has been located but the other, called Daisy, is still missing.
Daisy (pictured) is a three-year-old bitch and is described as brindle and white, with a white chest and a white line running from one side of her nose up to her forehead. She has a white sock on her front left paw. She is micro chipped and registered to the owner.
DC Ryan Parker, Camborne CID, said: "When the owner went out for a short time, he put the dogs in the locked shed as they have a tendency to chew.
"When he arrived home he was extremely upset to find they had been taken.
"The owner is pleased to have one of his dogs back but is very worried about Daisy and is urging anyone who knows where she is to get in touch."
Two men, aged 43, from Camborne, have been arrested on suspicion of burglary and released on police bail until 15 July.
Anyone with information about the whereabouts of Daisy is asked to call DC Ryan Parker on 101 quoting AC/14/1692, or alternatively call
Crimestoppers
anonymously on 0800 555 111.