Strong Wind - Disruption Across The South West
5 February 2014, 14:18
Winds gusting up to 85mph have battered into Cornwall and Devon causing homes to be evacuated and thousands to lose power.
The leader of Cornwall council is demanding immediate action from the government after our rail links have been completely cut off due to storms.
The Penzance to London line is hanging in mid air at Dawlish in Devon and its been declared a major incident.
Network Rail say they're meeting today to discuss what they're planning to do.
In Dawlish 30 people have been evacuated from their homes, amid fears that their homes could collapse into the sea.
People have also been evacuated in Torcross, where waves broke windows, and in Kingsand near Torpoint where people spent the night in the village hall.
CORMAC highways teams had to cut their way into the village, as it had been cut off by a large number of fallen trees.
There are now fears that the clock tower could collapse into the sea.
Homes in Looe have been evacuated, and it's estimated that around 35 properties in the area have been flooded.
In Cornwall winds of up to 85 miles per hour have been recorded, in Devon they've reached 73 mph and that's up to 93 mph on the Isles of Scilly.
Falmouth coastguard say people on Looe seafront have also been evacuated and people are being warned to stay away from the coastline.
The coastguard are warning of waves of up to 38 feet, and they've already recorded waves of 30 feet in Cornwall.
There's been damage to properties on Penzance seafront as huge boulders have been thrown ashore.
There's also damage at Newlyn.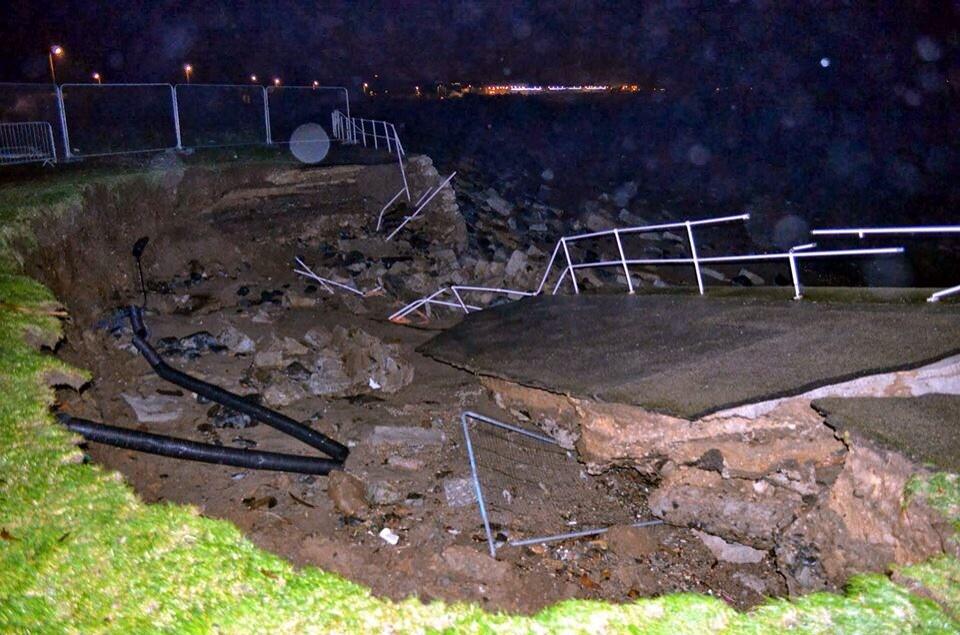 There's a severe flood warning in place for the South Cornwall coast from Lands End to Plymouth, and for the South Devon Coast from Star point to Lyme Regis.
Devon's highways operation control's still working flat out trying to deal with at least 100 fallen trees and landslips, and patrolling seafronts in Sidmouth, Exmouth, Seaton, Dawlish, Teignnmouth, Plymouth Hoe and Torcross.
A roof was blown off a conservatory in Torquay and fire crews have been dealing with buildings left in a potentially dangerous state because of the wind.
Police say that Plymouth Hoe, Teignmouth's famous pier and Exmouth have been hit by large waves and damage has been caused.
Exmouth has seen waves of almost 30 feet this morning.
Thousands of homes across Cornwall and Devon lost electricity overnight after strong winds brought down power cables across both counties.
Western Power Distribution said 80mph wind caused 'airborne debris' to fly into overhead lines. 200 of their staff have been out fixing the problems overnight after they sent people to Cornwall yesterday because they were expecting the wind to cause problems.
For more pictures of the damage caused by the storms click here
The Met Office have issued an Amber alert for wind for the rest of today. See more HERE
You can find out more on travel for Cornwall and Devon here