Ed Sheeran Becomes Ambassador For East Anglia's Children's Hospices
19 February 2014, 10:39 | Updated: 19 February 2014, 11:11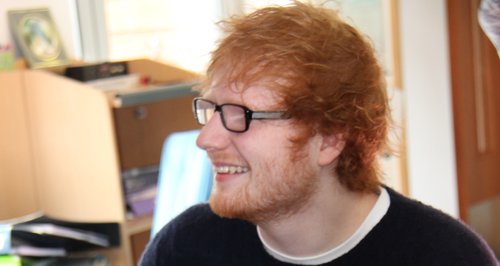 Ed Sheeran's become an ambassador for East Anglia's Children Hospices.
Ed Sheeran has become an ambassador of East Anglia's Children's Hospices (EACH).
Ed visited The Treehouse yesterday to meet with children and EACH staff to find out more about the charity which provides care and support for life-threatned children, young people and their families.
To publicly recognise and celebrate Ed's support, EACH has asked him to become an ambassador.
Ed had a tour of the facilities including the hydrotherapy pool, bedrooms and sensory room as well as taking part in a music therapy session with the children led by EACH Music Therapist Ray Travasso.
During the session Ed played guitar while the children played on the keyboard and tambourines. The guitar Ed played was in fact an LX1E Ed Sheeran Signature Edition which was created by C.F Martin & CO. in collaboration with Ed and features the word 'each'. All of the royalties from the sale of the guitar, which was launched last year, are being donated to EACH which has raised lots of money for the charity.
Ed said: "It was great to come to The Treehouse to see the fantastic work the charity does. The facilities are amazing and I can see just how important the care and support is to the children and their families.
"I really enjoyed learning about what's on offer, especially music therapy, and I had great fun playing the guitar as part of the session.
"It was a really moving experience and I look forward to working with the charity in the future."
Ed signed his drum kit in the music studio, which he donated to The Treehouse last year for children and young people to use in music therapy sessions, and he brought along some lego gifts for the children.
Vanessa Bell, EACH Suffolk Fundraiser, said: "Ed is a fantastic supporter of EACH so it was great to be able to welcome him to The Treehouse and show him the difference his support makes to our work.
"Not only does Ed help raise vital funds for EACH but he's also a great ambassador for the charity; raising awareness and understanding of the charity especially through social media to his millions of fans.
"Recognising Ed as an EACH Ambassador is a way of publicly acknowledging and celebrating his support and we look forward to working with him in the future."