Illegal Tobacco and Drink Seized In Ipswich Raids
2 May 2014, 09:10 | Updated: 2 May 2014, 09:19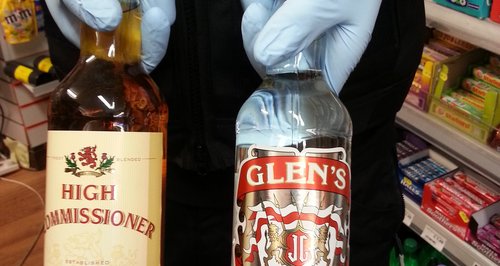 Trading standards raid stores in Ipswich looking for fake tobacco and illegal alcohol supplies.
The operation led by Suffolk Trading Standards seized 9560 cigarettes, 4.1 kilos (over 700 packs) of hand rolled tobacco and 25 bottles of alcohol during an operation targeting shops selling illicit tobacco and alcohol in Suffolk
The operation saw officers from Suffolk Trading Standards, HM Revenue & Customs (HMRC), Ipswich Licensing, International Federation of Spirits Producers (IFSP), Suffolk Police and specially trained dogs targeted 5 shops across the Ipswich in co-ordinated multi agency visits.
Following an increase in illicit tobacco intelligence and test purchases in Ipswich, the teams swooped down on the stores and within minutes the sniffer dog was searching shelves, stock rooms and cupboards.
Five shops were visited with seizures occurring at three premises. This included fake tobacco, often produced using unknown ingredients which can have health risks, as well as non-duty paid cigarettes. Customers are drawn to such products because they are sold cheaper than standard cigarettes, but the problems of the trade are far-reaching.
Colin Spence, Suffolk County Council's cabinet member for public protection said:
"These black market traders cause major problems for legitimate retailers having to compete with so-called bargain prices. Some of the products sold are untested and produced in an environment that is often unsafe and unregulated."
"Those selling illicit products often have no regard to who they sell to, which can include children. Taking these products out of circulation is a positive step for consumers."
Illicit product comes in different forms:
Smuggled: these are generally legitimately manufactured tobacco products which have evaded payment of tax by being illegally transported, distributed and sold.
Bootlegged: these are tobacco products which are purchased in a country with a low level of taxation and illegally brought into the UK, evading payment of tax.
Counterfeit: these are illegally manufactured tobacco products which are often made abroad, but sometimes in the UK. They are sold cheaply and tax free and vast profits are made throughout the supply chain.
Jin Ling: a counterfeit Chinese cigarette brand which has become a big player in the illicit tobacco market. Smuggled cigarettes can come into the UK from a range of continents, including the Far East and eastern Europe.
If you want to report a case of illicit tobacco trading, contact Trading Standards on 08454 04 05 06 or you can speak to someone anonymously at Crimestoppers on 0800 555 111.