Ipswich: New Bus Travel Office Opens
21 October 2013, 06:00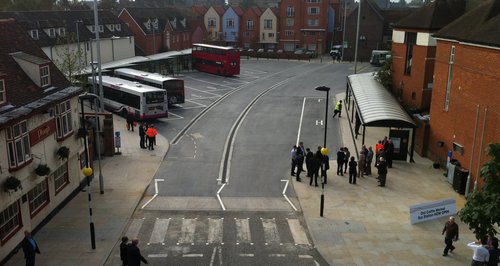 The new ticket office at Old Cattle Market bus station in Ipswich has opened today, making it easier for passengers to purchase tickets and get information on services to and from the station.
The temporary office in the Buttermarket shopping centre, has now closed and First Bus staff have moved into the station.
It's part of Suffolk County Council's Travel Ipswich programme to make it easier to travel around the town and prepare the road network for expected growth in the next 20 years.
The county council has committed to stopping works from 15 November until the new year, so that the town is not affected by Travel Ipswich road works over the Christmas period. This includes finishing the refurbishment of Tower Ramparts bus station and Museum Street. Work is currently on schedule.
Councillor Graham Newman, Suffolk County Council's cabinet member for roads and transport said the new ticket office is 'one of the most noticeable improvements' on the previous office and provides a 'clean, bright and welcoming environment' for passengers.
According to Suffolk County Council, the new yorkstone paving used throughout the station will be pressure washed and sealed by the end of the week. This work will be carried out at night to avoid disruption.
Councillor Graham Newman explained why the station and ticket office have opened before work is complete: "We did this because some 40 bus routes are served by the station, all of which were using temporary stops around the town and, understandably, causing disruption. We did this to ease that congestion as soon as possible and so that we can get on with finishing roadworks before the 15 November cut off.
"Work to refurbish Tower Ramparts and Museum Street is coming on well and I'm confident that our contractors will meet the deadline we have set them."
Shaun Daw, First Bus depot operations manager, said:
"We are very pleased that the new travel office is now open. We hope passengers will enjoy the updated facilities, including a new phone line for passengers to contact the office directly; the number will be 01473 253800.
"The travel office will continue to provide timetable, service and fare information to customers, as well as selling First Bus tickets."
Traffic lights at the junction between Warwick Road, St Helens Street, Grove Lane and Spring Road are being upgraded over a three week period from today, Monday 21 October. Whilst these works have been planned to coincide with half term when there is less traffic, Warwick Road will be closed at the junction with Grove Lane and diversions will be in place. Delays at peak times are likely.
More details on Travel Ipswich, planned works and road closures can be found at http://www.travelipswich.co.uk/