Ipswich: Old Cattle Market Bus Station Re-Opens
7 October 2013, 06:00 | Updated: 7 October 2013, 11:58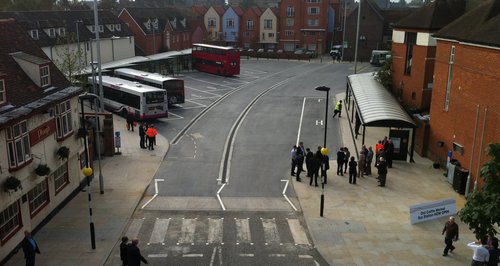 Ipswich's Old Cattle Market bus station will reopen today, following an extensive programme to refurbish it.
The station, which provides for over 40 local and county wide bus services, has been closed for a complete renovation since May 2013.

From this date, all services which have been operating from alternative bus stops will return to the station, except for three National Express services which will continue to depart from Cardinal Park.

The new station includes:
A reconstructed and enhanced station forecourt, carriageway, paving and footways.
Real Time Passenger Information (RTPI) boards (not yet operational).
New bus shelters.
Improved lighting and environment.
A new ticket office (not yet operational).
A disabled toilet.
Taxi bays for use during the evening.
Better drainage.
It's part of Suffolk County Council's Travel Ipswich programme to make it easier to travel around the town and prepare the road network for expected growth in the next 20 years.

Councillor Graham Newman, Suffolk County Council's cabinet member for roads and transport said:

"The programme to refurbish Old Cattle Market was hit by unforeseeable delays earlier in the summer, but I'm pleased to say that the station is now open for business.

"The new station is a much more welcoming environment with improved access and, very soon, real time passenger information.

"Our county town deserves modern public transport services and the refurbished Old Cattle Market bus station will be at the centre of that."