Suffolk Broadband: 25 Thousand Now With Superfast
10 April 2014, 07:42 | Updated: 10 April 2014, 07:47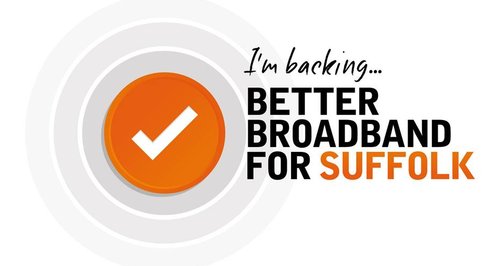 Just eight months into the project to improve internet speeds in Suffolk, 25,000 homes are now able to get superfast speeds.
Just 32 weeks since the first green roadside cabinets were switched on, residents and business owners in more than 1900 postcodes – approximately a quarter of those set to benefit from the programme - can now order the new broadband technology.
Mark Bee, Suffolk County Council's leader and chair of the Better Broadband for Suffolk programme, said:
"Giving over 25,000 properties access to faster broadband in just eight months is a significant achievement and clearly demonstrates the great things to come from the Better Broadband for Suffolk programme.
"We're now making significant inroads into more rural parts of the county – precisely what we set out to do when we launched Better Broadband for Suffolk.
"Faster broadband will boost Suffolk's economy, help us to attract new businesses to the county and create new jobs. It will also make it far easier for residents to access the internet and the benefits it can offer.
"I'm tremendously proud of what we have achieved and look forward to seeing this first round of rollout completed by the end of next year."
Nearly 5000 of the properties, all in rural areas in and around Aldeburgh, Leiston, Saxmundham, Wickham Market and Framlingham, can now connect because of a new piece of equipment which has been installed in Saxmundham. The 'head end' – a central point which serves thousands of properties - was made to order in China and is one of three that will eventually be installed specifically across the county as part of the Better Broadband for Suffolk programme.
Dr Therese Coffey, Suffolk Coastal MP, said:
"I welcome the enabling of this key exchange as it opens up many more homes and businesses in rural Suffolk to switch up to superfast broadband."
It's all part of a multi-million pound partnership between Suffolk County Council, BT and the Government to extend the availability of high-speed fibre broadband throughout the county, especially in rural areas.
This is just the early stages of this major programme. Suffolk County Council has committed to ensuring that by the end of 2015, every property in Suffolk has access to broadband speeds of at least 2 megabits per second (Mbps) while 85 per cent of homes and businesses will be able to benefit from superfast speeds (24Mbps or more).
Every three months, between now and the end of 2015, approximately 10,000 more properties will be given access to better broadband.
The partnership is building on BT's existing commercial plans, which have already made fibre broadband available to around 200,000 Suffolk premises.
The new technology provides download speeds of up to 80Mbps and upload speeds of up to 20Mbps, with the potential for even faster speeds in the future.
Suffolk County Council estimates that over the next 15 years, the project will provide a £2 billion boost to the local economy and will create 1,500 jobs.
Residents can also enjoy a boost in speeds for home entertainment. They will able to simultaneously download movies, transfer files, watch TV replays, surf the internet and play online games.
Downloading a whole music album could take them less than 30 seconds and a feature length HD movie less than 10 minutes, whilst high-resolution photos can be uploaded to Facebook in seconds.