Suffolk Broadband: Roll Out Brought Forward
6 August 2013, 06:00 | Updated: 6 August 2013, 16:26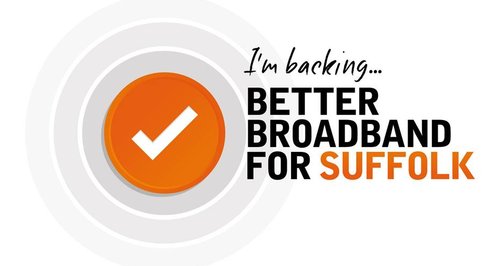 More than 2,500 homes and businesses in 16 locations will be getting super-fast broadband speeds in Suffolk by the end of September.
It is part of a multi million pound partnership between Suffolk County Council, BT and the Government to make high-speed fibre broadband more widely available in the county.

Three months ahead of schedule, properties in 16 Suffolk communities will, by the end of September, be able to order the new broadband technology because BT engineers have realised some pockets of the county are easier to connect than they first thought.

Work is already well underway meaning properties in and around parts of Lowestoft, Belstead, Kesgrave, Hadleigh, Whatfield, Bury St Edmunds, Stowmarket, Sudbury, Felixstowe and on the Suffolk-Essex border near Manningtree will benefit early.

Some homes and businesses in Lowestoft, Belstead and Stowmarket can already place orders. The new technology provides download speeds of up to 80Mbps2 and upload speeds of up to 20Mbps2, with the potential for even faster speeds in the future.

Businesses in these areas will be able to work faster and more efficiently. Having fibre broadband means users are able to run multiple, bandwidth-hungry applications at the same time and send and receive large amounts of data faster.

Computer systems will be easier to back up and high quality video-conferencing will become more commonplace.

Suffolk County Council estimates that over the next 15 years, the project will provide a £2 billion boost to the local economy and will
create 1,500 jobs.
Residents can also enjoy a boost in speeds for home entertainment. They will able to simultaneously download movies, transfer files, watch
TV replays, surf the internet and play online games.

Downloading a whole music album could take them less than 30 seconds and a feature length HD movie less than 10 minutes, whilst high-resolution photos can be uploaded to Facebook in seconds.

This is just the start of the major programme. By the end of 2013, around 10,000 properties will have access to the new technology thanks
to the programme.

Ed Vaizey, communications minister, said: "Suffolk, along with the rest of the UK, is undergoing a remarkable transformation of Broadband and it's fantastic to hear that the first 16 locations in the county will have access to superfast speeds by the end of September, three months ahead of schedule. With around 10,000 Suffolk homes and businesses due to benefit from superfast availability by the end of 2013, this project will provide a huge boost to the local economy and be instrumental in driving growth."

Mark Bee, Suffolk County Council's leader and chair of the Better Broadband for Suffolk programme, said: "Switching on the first cabinets
is a truly significant milestone in the Better Broadband for Suffolk programme and is very much the start of great things to come.

"Faster broadband will boost Suffolk's economy, help us to attract new businesses to the county and create new jobs. It will also make accessing the internet far easier for people'

"I'm immensely proud of what we have achieved in such a short space of time and look forward to seeing the rollout completed within the next two and a half years."

Bill Murphy, BT's managing director next generation access, said: "It is a fantastic achievement that people in Suffolk are already seeing
the benefits of this programme. This investment in fibre broadband will boost the local economy and help to create or protect local jobs both in communities like Lowestoft and across the whole of Suffolk. It will be of enormous benefit to local businesses
which can use the faster speeds to improve their competitiveness both within the UK and abroad."

Premises which are set to be able to receive services made possible by the Better Broadband for Suffolk programme between August and September are in the area of:
Weston Road; Cotmer Rd; Mayfield Road, Lowestoft
Riverside Industrial Park; Old Wherstead Road, Belstead
Edmonton Road, Kesgrave
Lady Lane; Whatfield, Hadleigh
Springfield Road; Moreton Ind Est; Buttermarket area, Bury St Edmunds
Creeting Road, Stowmarket
Lucas Rd, Sudbury
Gainsborough Road, Felixstowe
School Lane, Brantham
The Street, Bramford
Not all homes and businesses in the towns and villages listed above will receive better broadband services from these cabinets.