Suffolk: Escaped Prisoner Jailed For 6 Years
18 July 2013, 12:39 | Updated: 18 July 2013, 12:43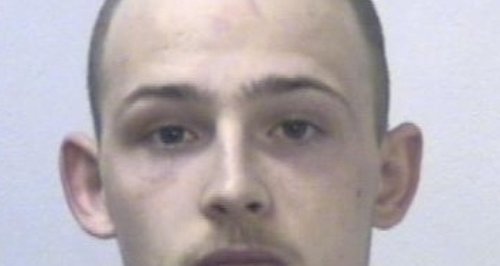 A prisoner who was sprung from custody by a former jail-mate has been jailed for six years.
A prisoner who was sprung from police custody by a former jail-mate, forcing prison officers into "terrifying circumstances'', has been jailed for six years.

Andrew Farndon, 27, had pleaded guilty to escaping from custody after fleeing from outside West Suffolk Hospital in Bury St Edmunds in January last year.

His former cellmate Garry Cowan, 44, held a gun to a prison officer's head during the incident and threatened to shoot her if Farndon was not released.

The pair, who had shared a cell at Highpoint jail in Stradishall, Suffolk, had hatched a plot to free Farndon before Cowan was released two weeks earlier.

They were both later tracked down in Scotland and arrested.

Judge Nicholas Hilliard QC, the Common Serjeant of London, sentenced Farndon to six years at the Old Bailey, saying: "The evidence that you escaped is overwhelming. There was no possible defence.''

The judge said the escape created "terrifying circumstances'' for the prison officers present, adding: "You knew that one of your escorts was a female officer.

"They thought it was a real gun.

"She thought she was going to die.''

He said the fact it was not simply an escape from a prison building made it a "more serious'' matter.

He pointed out that although Farndon may not have known Cowan was to use an imitation firearm until the last minute, he would have been aware that there was the possibility of the "use or threat of force''.

The judge also said the whole incident would have required a "considerable amount of planning''.

Farndon, who was serving an indefinite jail term for smashing a motorist's head with a claw hammer and baseball bat, was due to be sentenced at the Old Bailey on July 5 but refused to leave his cell at Belmarsh prison.

Through his barrister Stephen Shay, Farndon apologised for this today, with Mr Shay saying his client was feeling unwell and was "genuinely sorry'' adding: "He is genuinely remorseful about the ordeal he put these prison officers through.''

Farndon, who has been diagnosed as having two severe personality disorders, had a number of complaints with the prison including the diet and exercise regime, his lawyer said earlier this month.

High security Ashworth Hospital near Liverpool - where Moors Murderer Ian Brady is held - indicated it is not prepared to accommodate him.

The judge said this left Farndon "in limbo'' of sorts, and said he may well be transferred to hospital under the Mental Health Act at some stage.

Cowan and Farndon were convicted over the escape last December but their sentencing was delayed by a series of doctors' reports into Farndon's sanity.

Addressing Farndon, the judge said: "You have a very serious disorder.''

While on the run, Farndon assaulted two police officers and tried to hijack two police cars.

He was arrested and in May this year jailed in Glasgow for six years. Today's sentence will run concurrently.

Farndon has nine convictions for 18 offences including setting fire to his mother's home, burglary, assault and criminal damage.

He said his motivation for the jail-break was to give his sick mother his kidney as she needs a transplant.

Cowan, who has committed almost 500 offences, was sentenced to 10 years last month for assisting an offender and possessing an imitation firearm with intent to cause fear of violence.