Tour Series: Final Held In Ipswich Later
14 June 2013, 10:58 | Updated: 14 June 2013, 11:16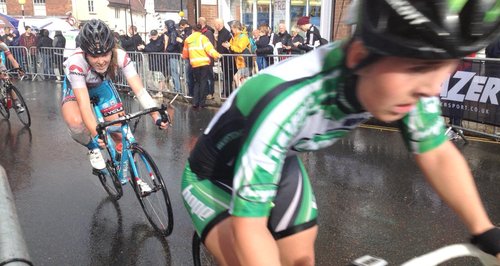 Thousands of people will be lining the streets of Ipswich this afternoon - for the latest in the Tour Series of cycle races.
It's thought businesses in Ipswich will benefit from a £250,000 of extra trade from hosting Pearl Izumi Tour Series.

The final round of the series happens tonight and it's the first time it's come to Ipswich.

Suffolk is no stranger to feeling the financial benefit of hosting major cycling events. Since 2010, the county has been part of the Tour of Britain three times - netting £2.65 million for the local economy.

Councillor Alan Murray, Suffolk County Council's cabinet member for health and adult care, said:

"It's important to recognise the economic impact that staging these high profile events has for Suffolk.

"Not only do local businesses benefit from the immediate trade - but they should also be able to capitalise on the long term effects of raising Suffolk's profile.
"I'm very much looking forward to seeing our county town shine tomorrow and showing the country how well Suffolk hosts events like this."
Around 15,000 people are expected to line the route on Friday to see some of Britain's best athletes on two wheels racing through the streets of Ipswich at speeds of over 30 miles an hour.

Three separate races - including a new 12-pro rider contest dubbed the 'Suffolk Most Active County Sprint Challenge', and a race between amateur teams from local businesses, will be held between 15:00 and 21:00.
Members of the public will have an opportunity to cycle the 1.2 km circuit themselves - before the professionals take to the course. There will also be a range of activities to take part in, including a rollerdrome where people can attempt to get to the top of the leader board with the fastest time.

The course starts and finishes on the Cornhill and passes through Westgate Street, Museum Street, Princes Street, along the Buttermarket to Upper Brook Street and then back along Tavern Street.
See a map of the route: MAP