Bracknell: UFO Sighting 'One Of The Best'
20 June 2013, 06:00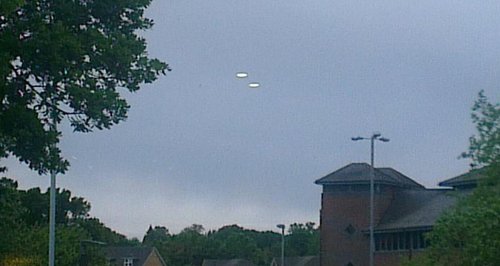 A man in Bracknell has taken a photo of what appears to be UFOs above the skies of Berkshire.
Steve Lambert took the photo as he came out of the Running Horse Pub in the town at 8pm on Friday evening after seeing two discs in the sky.
He said: "It was heading south west and quicker than any normal aircraft. I only saw it for less than five seconds.
"I have seen a lot of funny things in the sky and I have always practised trying to take a photo quickly on my mobile phone.
"I am interested to see if anyone else saw it and whether there were any other witnesses."
A UFO expert, formerly from the Ministry of Defence, says the photo is 'one of the best' he has seen.
Nick Pope – who spent some part of his time at the MoD investigating possible UFO sightings, said it's a genuine unknown: "The shape and colour seems to rule out things like Chinese lanterns. I don't think it is aircraft lights or helicopter lights because the colour and configuration are all wrong.
"It would be interesting to know if anyone else saw this, or if anything unusual was tracked on radar."