Oxfordshire: Council to hold flood summit
13 January 2014, 15:45 | Updated: 13 January 2014, 15:48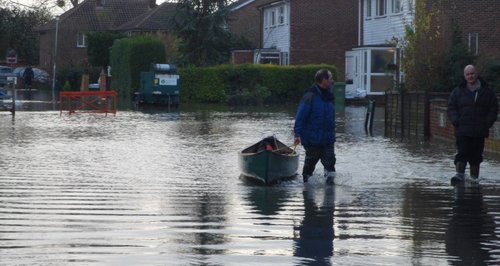 Oxfordshire County Council have revealed plans to meet with a range of local and national organisations to discuss how flooding is dealt with in the future.
It comes as the latest bout of flooding has forced many people who live in the Thames Valley to leave their homes, and caused widespread disruption for many more.
Councillor Rodney Rose, cabinet member for with responsibility for Flood Risk Management in Oxfordshire said: "We have now had significant floods two years running and four times in the last decade, so we may have to face up to flooding as the 'new normal' in Oxfordshire,
"That is why I want to make sure that all the relevant organisations come together as soon as possible to learn lessons from these floods. We need to agree how we can work together to reduce the risk to homes, businesses and the transport links that are vital to our local economy."
Cllr Rose praised the response of the council and other organisations to the most recent incidences of flooding - and called for the same "shared sense of purpose" between different organisations to help prevent repeated damage and disruption in the future.
He also welcomed the Prime Minister's acknowledgement that flood defences need improving, but said that people in Oxfordshire had already "found this out the hard way."
He added: "Unfortunately we can't guarantee that it won't happen again, but as we can pledge to all residents that we will work together effectively to reduce the risk."
Meanwhile, further rain is expected later this week, and there are fears that flood levels across the region could rise again as a result.